Alien Isolation Trailer Introduces Us To The Kill-Off Team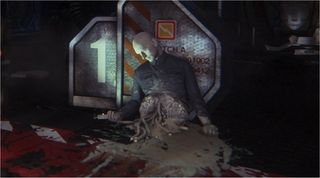 Every horror movie needs a good kill-off team. You know, the group of survivors that just can't quite make it? Well, we get to see a few of the personalities behind brief glimpses of their faces with a brand new behind-the-scenes video trailer for the upcoming emergent horror game.
We learn a little bit about the design process of the game, such as Creative Assembly deciding to use the actors' faces instead of going with generic-pretty-people designs that have flooded the game market for way too long (except for in Call of Duty games). I will readily admit that this was a superb choice by Creative Assembly, as it just makes sense.
One of the biggest takeaways from the game is that Ripley's daughter – the main protagonist of this little rag-tag, horror-adventure tale – actually looks like a character who could potentially become iconic and memorable. That's easily assuming that Alien: Isolation doesn't become a staple example of a terrible cash-in title like Gearbox Software's (and their plethora of contracted sub-studios) Alien: Colonial Marines.
On the upside, the game actually looks pretty good so far (then again, so did Colonial Marines in the carefully and craftily selected pieces of gameplay footage).
I am very curious about one thing, though: how well characters die off if it's a Slenderman-esque gameplay environment? Will they only die in preset cinematic sequences? Will players have any control over the fate of the other crewmen? How's that going to work out?
Perhaps, the highlight of Alien: Isolation is that we don't know how it's going to work out. We don't know how much of an influence the xenomorph will have over the crew or how it will terrorize players throughout the play experience.
My only hope is that the game isn't too much of a linear, corridor-regulated, horror-trope fest. In the same way that this could be the one-up horror title to Red Barrels' Outlast, it can just as likely end up as a follow-the-rabbit, pop-out scare-tactics version of Slender: The Arrival. Based on the footage and gameplay showcased, it's kind of hard to see which way the game might go, but again, this is probably for the best... as it leaves something to be discovered upon playing it.
Alien: Isolation is being scheduled to release on October 7th. Sadly, this is a cross-generational title for both curren-gen consoles and the geriatric twins from the seventh gen. That means that there's going to be some obvious sacrifices made.
Still, you can learn more about the game by paying a visit to the official website.
Staff Writer at CinemaBlend.
Your Daily Blend of Entertainment News
Thank you for signing up to CinemaBlend. You will receive a verification email shortly.
There was a problem. Please refresh the page and try again.