Aliens: Colonial Marines Looks Better On Wii U Than Xbox 360, PS3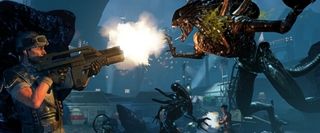 Gearbox Software's senior producer on the upcoming Aliens: Colonial Marines, Brian Burleson, says that the game is coming along quite nicely but more importantly, the Wii U version will look heads-and-tails better than its aging console counterparts.
Speaking briefly with Eurogamer, Burleson was able to squeeze in a few details on what gamers can expect from the Wii U port of the highly anticipated first-person shooter, saying...
Sega was apparently there with armed guards, robotic policemen and space marines to keep Burleson from saying too much because the Eurogamer article hints at constant interruptions to prevent the producer from talking about the Wii U as freely as a bear taking a piss in a lake.
Nintendo has a very steep NDA in place to prevent developers from explicitly detailing any of the Wii U's hardware specifications, leading many to jump to wild rumors and conclusions, including an anonymous developer saying the Wii U is far less powerful than the Xbox 360 and PS3, which kind of contradicts what Burleson says about the console, as well as what Slightly Mad Studios has planned for the console with their upcoming game Project CARS, which is one of the best looking racing games ever released, as well as Nicalis who also succumbs to the belief that the Wii U is Nintendo's most powerful console yet.
Judging by the enthusiasm from most developers working with the tech, as well as the fact that the Wii U is seven years newer than its rivals, it's hard to imagine that the Wii U won't be an absolute powerhouse. Burleson, nevertheless, mentions that the Wii U port of Aliens: Colonial Marines will be visually better than the Xbox 360 and PS3 versions, which definitely gives some insight into Nintendo's newest console's capabilities.
You can check out the rest of the interview with Gearbox Software's Brian Burleson over at Eurogamer.
Staff Writer at CinemaBlend.
Your Daily Blend of Entertainment News
Thank you for signing up to CinemaBlend. You will receive a verification email shortly.
There was a problem. Please refresh the page and try again.