Angry Birds Star Wars To Make A Console Run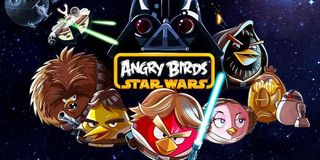 Who would have thought that after all of these years of flinging disgruntled fowl at mischievous pigs, mankind would still have a hunger for the legendary Angry Birds series. The latest iteration, Angry Birds: Star Wars is already a huge hit on mobile and, on Oct. 29, the force will be strong with all major game consoles as Rovio Entertainment's latest creation flocks to just about every home and portable system known to man.
Angry Birds first flew onto the scene in late 2009, taking the world by storm as mobile users eagerly loaded their catapults and brought justice to a herd of green pigs that somehow thought it was safe to build their protective fortresses out of loosely stacked bits of debris.
Since that time the Angry Birds franchise has only grown, selling millions of copies of each iteration including Seasons, Space and the movie tie-in, Rio. Not exactly a cash grab, each version of the game offered something new to the audience, whether it be new birds with new abilities, hundreds of new levels or even totally revamped physics in the case of Space. And the series has spread its wings to fly beyond the video games market, too, releasing clothes, board games, toys, a rumored TV show and even a movie branded with the iconic birds.
Now Rovio, Activision and Lucasfilm have teamed up to inject some good old fashioned Star Wars goodness into the franchise, creating yet another behemoth hit for the mobile market. But it wouldn't be an Angry Birds game if it stopped there.
"Downloaded more than 100 million times since its release last year, Angry Birds Star Wars melds together two of the biggest names in pop culture entertainment for an out of this galaxy gaming experience," said Executive VP of Games for Rovio, Jami Laes. "Angry Birds and Star Wars are franchises with millions of fans around the world and we're excited to partner with Activision to bring the marriage of these beloved properties to gamers everywhere this holiday season."
When it's released for consoles, Angry Birds Star Wars will be shipping for the Xbox 360, PlayStation 3, PlayStation Vita, Nintendo Wii, the Wii U, Nintendo 3DS and, hell, probably the Dreamcast, too. More than just a direct port, the console versions will feature an additional 20 levels stacked on top of the existing 200, as well as multiplayer modes, a first for the series. Players can team up in co-op to try and get the best combined score, or they can go head to head in four-player versus mode. This latest version of the game will also come packed with Trophies, Achievements, leaderboards and unlockable bonus content.
Look for Angry Birds Star Wars to fly onto just about any game console you have in your house on Oct. 29.
Staff Writer for CinemaBlend.
Your Daily Blend of Entertainment News
Thank you for signing up to CinemaBlend. You will receive a verification email shortly.
There was a problem. Please refresh the page and try again.