Angry Birds: Stella Flying Your Way This Fall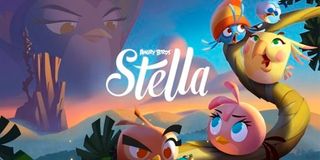 Pink is a powerful color in the most recent iteration of the Angry Birds franchise as lead bird Stella takes center stage. In fact, that's the name of the new upcoming title, Angry Birds: Stella.
Stella is apparently not as new as some of us less diehard Angry Birds fans might think. She's actually been a part of the feathered mythos for quite some time, popping up in animations and even as a playable character in games like the racing-focused Angry Birds Go. Here's a clip IGN posted last August, giving us an idea out of what we might be able to expect out of the series' new leading lady.
This is by no means the first evolution for the beloved mobile (and now console, PC and even physical) game series, as Angry Birds have had tie-ins with IPs like Star Wars, Rio and more. Pretty much every version of the game turns into an instant success for developer Rovio, with the console version breaking a million units sold in no time. Keep in mind that said console version of the game cost like 40 bucks and yet people still flocked to pick it up.
Now the series is going in a whole new direction as Rovio has today announced the impending launch of Angry Birds: Stella.
"Angry Birds: Stella will open a door to a part of the Angry Birds universe you've never seen before," reads the announcement. "There will be plenty of fun and adventure, but the bunch of passionate pals will also have to deal with some serious issues in order to protect their friendship and the environment they live in. Luckily, Stella and her friends are good at finding creative solutions."
Based on that description and the single piece of artwork that's been released for the game, I'm thinking we would be wrong to expect the same old Angry Birds formula of flinging disgruntled fowl at pigs hiding in shoddily constructed forts. As a matter of fact, it looks like the transition to Stella is planned to be more than a single offering on games platforms, as Rovio claims the transition will include games, animations, books, toys and more.
There are few things I like more than seeing a developer try something new. They could always just reskin the same old game and make a billion dollars off of it, but it looks like Rovio will be shooting for something bigger than that. The planned launch date for the Stella revolution is fall of this year, but I expect we'll be hearing more about what's in store for the pink bird and her gang of BFFs in the coming months.
Staff Writer for CinemaBlend.
Your Daily Blend of Entertainment News
Thank you for signing up to CinemaBlend. You will receive a verification email shortly.
There was a problem. Please refresh the page and try again.