Assassin's Creed 4 Launching On PC Weeks After Consoles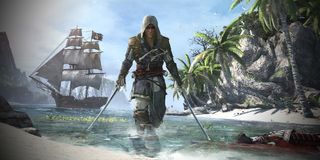 Assassin's Creed 4 will debut on current-gen consoles this October. The PC version, however, won't be out until November at the latest according to Ubisoft.
AC4 director Ashraf Ismail revealed the staggered release during a chat with ElderGeek (video below). He didn't mention the PC release date. However, he mentioned that that version will arrive "a few weeks after" its console counterparts.
"We're working hard on the PC version," Ismail said. "It's one of the main platforms we work on in the office. For our PC fans, don't worry. The game on PC looks phenomenal."
Are you surprised, by the delay? Well, you shouldn't be. Every Assassin's Creed game in the series has hit the PC later than consoles. Here are the North American launch dates for the series:
Assassin's Creed
PlayStation 3 & Xbox 360: November 13, 2007
PC: April 8, 2008
Assassin's Creed 2
PlayStation 3 & Xbox 360: November 17, 2009
PC: March 9, 2010
Assassin's Creed: Brotherhood
PlayStation 3 & Xbox 360: November 16, 2010
PC: March 22, 2011
Assassin's Creed: Revelations
PlayStation 3 & Xbox 360: November 15, 2011
PC: November 29, 2011
Assassin's Creed 3
PlayStation 3 & Xbox 360: October 30, 2012
PC: November 20, 2012
But hey, at least they use PC's in their office, right?
The pattern isn't limited to Assassin's Creed, either. Check out release dates for recent entries in other high-profile Ubisoft series like Prince of Persia or Splinter Cell and you'll see more of the same. I wouldn't be half-surprised if Watch Dogs gets pushed back a few weeks on PC as well. Here we go again.
So, why do PC gamers always get the shaft with these big launches? It's the same reason that, up until this past fall, they tried pushing always-on DRM on that platform: piracy. Ubisoft CEO Yves Guillemot stated last year that 93-95% of players of a given game are pirates. If you believe those sorts of statistics, then delaying the PC version to nudge gamers toward buying the console editions instead makes sense.
Ubisoft said earlier in the year that they're trying to mend their relationship with PC gamers. Assassin's Creed 3, for example, was released without the always-on DRM. So was Far Cry 3, which was also A) excellent on PC, B) released on PC simultaneously with consoles. These are the rare exceptions, though. If Ubisoft's going to really win over PC gamers for good, they need to be consistent.
AC4 will debut on Xbox 360, PS3 and Wii U on October 29th. Ismail said in the interview that the game is going to be a launch title on PS4 and Xbox One as well. Those consoles are currently undated, though.
Your Daily Blend of Entertainment News
Staff Writer at CinemaBlend.
Your Daily Blend of Entertainment News
Thank you for signing up to CinemaBlend. You will receive a verification email shortly.
There was a problem. Please refresh the page and try again.