Assassin's Creed AC/BC Parody Trailer Is Too Good To Be True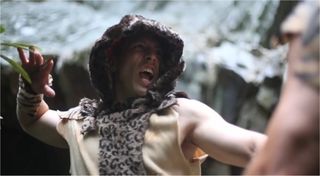 There's a new parody video up of Ubisoft's popular Assassin's Creed game in the form of Assassin's Creed AC/BC, an alternate take on the shadow-war between Assassins and Templars is taken to absurd levels with a stone-age twist.
Game Informer spotted the new video from BeatdownBoogie where the real-life trailer is setup almost identical to the way previous Assassin's Creed games have been portrayed by Ubisoft.
For instance, check out the launch trailer for Assassin's Creed III and maybe you'll spot some of the cinematic similarities, all the slow-motion kills, and the strong focus on the over-the-top combat sequences.
But what makes the live-action parody so silly and yet so compelling is how straight-faced it is about actual gameplay potential from a stone-age rendition of Assassin's Creed. I mean, a rock? Sticks? Sharpened sticks? As silly as it sounds it's not far off from the meta-game presented in most Assassin's Creed titles: you start with a knife and work your way up to a very fancy, sharp knife.
One of my favorite parts of the parody trailer was the crowd-blending... absolutely genius... sitting there with the apes picking and eating bugs. The funny part about it is that no matter how ridiculous it looks in the video, it's actually 100% accurate to the way it works in the game. You know what makes it worse? Assassin's Creed AC/BC could literally become a real game, exactly the way you see it in the video at the top of the article.
Surprisingly, the BeatdownBoogie crew kept everything eerily close to how the mechanics actually work in Ubisoft's popular title.
Heck, the only thing they were missing was traveling around the game world using a pterodactyl. Maybe that was due to budgetary concerns?
Anyway, the video has garnered mixed responses from gamers, some whom believe that Ubisoft might actually head to the stone age for an upcoming title, while others thought it was just smile-bait.
Assassin's Creed has become so absurd in some ways, it's not even something that I would put past Ubisoft no matter how over-the-top and ridiculous it is. Would I play it? Heck no. Would I watch an entertaining personality play it on YouTube? Probably.
In the meantime, you can look for Assassin's Creed Unity to launch this fall for the Xbox One, PS4 and the PC. For those of you who have decided not to upgrade to the eighth-gen consoles, you can settle (although here at Gaming Blend we believe it's actually an upgrade) with Assassin's Creed Rogue for the Xbox 360 and PS3.
Staff Writer at CinemaBlend.