Assassin's Creed Chronicles Trilogy Announced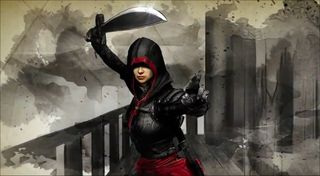 Ubisoft has announced that three new Assassin's Creed games are on their way to the Xbox One, PS4 and PC. And even though, it's easy to think that Ubisoft might be over-saturating the franchise, these new games are different from what you might have been expecting.
Blue's News spotted the announcement on the official Assassin's Creed website, where Ubisoft discussed the trilogy's details and unveiled an announcement trailer:
As you can see, the trailer is a serious throwback to the earlier Prince of Persia days of gaming where side-scrolling platforming and fast-paced action were always part of the recipe. It's kind of cool to see Assassin's Creed take on this kind of genre, because it actually fits in perfectly.
The game's trademark parkour is seamlessly integrated into the platforming controls, meaning players can climb, scale, slide, and hop across various platforms. The gameplay looks appropriate for Assassin's Creed: Chronicles, which should come as a relief to gamers who may have worried about an overly complex design replacing the traditional mechanics. Instead, it looks like Ubisoft has simplified the gameplay while still maintaining all the acrobatic hijinks that gamers love about the series. Then again, side-scrolling games usually remove a lot of the complex barriers associated with the maneuverability of other 3D titles.
The trilogy's the three characters also really stand out. In Assassin's Creed Chronicles: China players will take on the role of Shao Jun during the crumble of the Ming Dynasty in 1526. This is an era and region that gamers have been asking for since the very first Assassin's Creed title. It is kind of disappointing that this setting is relegated to a side-scrolling title instead of a large, open-world title, but I guess gamers will take whatever they can get.
The next event is Assassin's Creed Chronicles: India, which takes place during a vital era of India's trading tumult. Players assume the role of Arbaaz Mir, who is convicted to fight for the cause. He definitely seems like a legitimate character that could man his own game.
Last but not least is Assassin's Creed Chronicles: Russia. The third outing puts players in the role of Nikolai Orelov, a Russian freedom fighter during the turbulent times proceeding World War I. Orelov is trying to restore balance and peace to the land through the Assassin's guild. He gets to use guns and seems to have a focus on more long-range combat compared to the other two.
Ubisoft plans to release all three games this year, starting in the spring. Assassin's Creed Chronicles: China will launch first starting April 21st and will be free for those who purchased the season pass for Assassin's Creed Unity. Following that will be the release of Assassin's Creed Chronicles: India and then finally Assassin's Creed Chronicles: Russia.
Staff Writer at CinemaBlend.
Your Daily Blend of Entertainment News
Thank you for signing up to CinemaBlend. You will receive a verification email shortly.
There was a problem. Please refresh the page and try again.