Assassin's Creed Franchise Has Sold 73 Million Total Units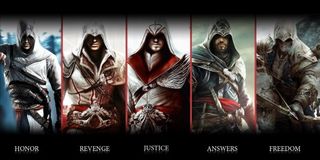 Great Scott, who knew that Ubisoft commanded such a deafening grip over the hearts and minds of gamers with their franchises? I certainly didn't know. I mean, we all know that Assassin's Creed sells a ton of units every single year out, but for a brand new generational IP that only just came onto the scene since 2007, the series has already managed to shift 73 million physical and digital copies. Simply, wow.
Behind Games was fishing through NeoGaf, where a tweet from Superannuation posted up details from Ubisoft's financial investor page, revealing some of the following numbers:
- Assassin's Creed: 73 million
- Just Dance: 48 million
- Tom Clancy's Splinter Cell: 30 million
- Tom Clancy's Rainbow Six: 26 million
- Tom Clancy's Ghost Recon: 25 million
- Petz: 24 million
- Rayman: 25 million
- Imagine: 21 million
- Prince of Persia: 20 million
- Driver: 19 million
- Far Cry: 18 million
- Rayman Raving Rabbids: 14 million
- The Settlers: 10 million
- The Experience: 9 million
- Anno: 5 million
-Your Shape: 3 million
I had me a good "LOL" at Your Shape, down there in the poverty sales territory. That series sells so bad that Ubisoft had to take out a welfare check for it. That series sells so bad that the protagonist from Capcom's failed espionage action game, Nilin, said "compared to Your Shape, people at least Remember Me." Can I get a rimshot? Anybody?
Anyway, just for a little perspective, Assassin's Creed is creeping up on the point where it almost doubles the total franchise sales of the Halo series, which has only managed to sell a total of 46 million units since 2001, as reported by EGM Now.
Speaking of Halo – do you see that Ubisoft's Just Dance series has actually eclipsed the robotic space-traveler and his companion AI love-interest? Crazy.
I suppose it's not completely fair given that Ubisoft caters toward multi-platform releases, and I'm sure if we divided up total sales per-platform, the brand sales would look vastly different. Let's also consider that while Ubisoft shows 73 million total for Assassin's Creed, the retail-tracking stats on VG Chartz shows that the Assassin's Creed brand has accrued sales of 58.84 million total units across all platforms.
That would mean that the series has sold an estimated 14.2 million when it comes to digital sales. Also, in the retail versus retail bracket, Assassin's Creed falls down a lot closer in line to the Halo franchise than when including digital sales.
A more apt comparison might be Assassin's Creed with Activision's Call of Duty series, but they're actually leagues apart. As we all know, Call of Duty as a franchise is a sales beast. So let's just say that even according to VGChartz' retail stats, the series has already reached close to 125 million SKUs sold since 2007's Call of Duty: Modern Warfare. As I mentioned... leagues apart.
Most surprising to me, however, is that Ubisoft's Imagine series for girls is actually quite lucrative. 21 million copies sold to date? That's more than the bigger budgeted, more brand-aware Far Cry.
Even despite the massive sales from Assassin's Creed, Ubisoft still ranks itself as third in line behind Activision and EA when it comes to publishing. But they're only trailing in third-place by fiscal fumes.
The software publisher also boasts having employed more than 9,200 people, 7,800 of which are game developers. That's not a bad ratio by a long shot.
Now begins the next step in guessing how many more millions the next two upcoming Assassin's Creed games will add to the total brand worth.
Your Daily Blend of Entertainment News
Staff Writer at CinemaBlend.