Call Of Duty: Ghosts Sales Hit $1 Billion, But Did It Outsell GTA 5?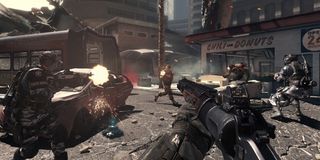 Call of Duty: Ghosts racked up over $1 billion in sales in its first day in stores, publisher Activision announced today. Was it the best launch day ever? Well, it's complicated.
The math seems obvious at first. GTA 5, the current record holder sold $800 million in its first day. However, Call of Duty: Ghosts' $1 billion total is referring to copies Activision sold to retailers (sell-in) while GTA 5's $800 million applies to copies actually sold to consumers (sell-through). It's possible that consumers actually bought fewer copies of Ghosts than GTA 5. Activision sounds optimistic that they've got the crown, though.
"Although it is too early to assess sell-through for Call of Duty: Ghosts, it's launching at a time when the franchise has never been more popular," Activision Blizzard CEO Bobby Kotick said today.
Call of Duty: Ghosts introduces a brand-new storyline. It depicts a near future in which the United States has been laid low by a new enemy. Former members of the U.S. Special Forces embark on a quest to restore America to its former glory. Other features in the game include the standard suite of competitive modes and bug-hunting co-op.
Ghosts launched at midnight yesterday in 15,000 stores across the world. It's available on PC, PS3, Xbox 360 and Wii U. Later in the month the PS4 and Xbox One versions will be released alongside the new consoles. Ghosts' six platform slate may help it muscle past GTA 5, which is only available on Xbox 360 and PS3. Next-gen and PC versions have been rumored for GTA 5 but Rockstar's hasn't announced them.
The same issue of sell-through versus sell-in makes it hard to evaluate Ghosts' performance against past Call of Duty games. Black Ops 2 managed to make $500 million in one day but, again, that total was based on actual sales to consumers rather than sales to retailers. Again, I'd expect the next-gen console sales will help Ghosts ultimately outsell Black Ops 2 and other predecessors, though.
Regardless of whether Ghosts passes GTA 5 in actual sales to gamers, Activision's clearly making a crap-ton of money off of the game. If you're praying for the day that the company will take a long hard look at the series and make major revisions, this isn't the day. If they keep pulling in these kinds of sales with each sequel, they have little incentive to change anything.
Your Daily Blend of Entertainment News
Staff Writer at CinemaBlend.