Assassin's Creed Unity No Face Bug Fixed, Frame Rate Issues Still Under Investigation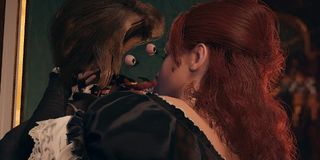 Ubisoft announced today that Assassin's Creed Unity characters now have faces. That's a sentence I'm very surprised to write.
The "no face" bug was very popular on social media. It made the textures of AC Unity characters' faces disappear, save for the mouth, eyes and hair. The result was unintentional comedy/horror for the game's cutscenes.
"In order to find how players are encountering this issue we tested it rigorously and have discovered that this only occurs on PCs with one of two specific graphics cards, and in both cases the issue is resolved with the application of the Day 1 patch (as well as all future patches)," Ubisoft said on their Live Updates blog. They added that anyone who is still seeing this bug even after patching should contact customer support.
The more pressing problem with the game - frame rate dips - hasn't been completely solved yet. Ubisoft has been investigating the frame rate issues since Unity launched last week and has devised numerous fixes. They revealed that the following changes are on the way:
Streamlining some technical aspects of navigation: We've fixed a number of edge cases with our detection system to smooth certain behaviors during parkour. We've fixed a few objects which were improperly tagged to smooth navigation.
Improving task scheduling: We've tuned the way the computing tasks are prioritized and parallelized by the processor cores to improve framerate in certain edge cases.
Tweaking performance for Reach High Points: We've optimized the reach high points, during the camera swooping sequence to improve framerate a little bit.
Ubisoft won't, however, be changing the size of crowds. They believed that the throngs of NPCs roaming Paris may have been hurting the FPS for the game but have ruled out this theory after several tests.
The frame rate changes may be included with Patch 3. This update zeroes in on a number of issues reported by players, including NPC behaviors, co-op matchmaking, and the user interface. It should also reduce the amount of crashes that players encounter throughout Unity. Ubisoft hasn't revealed the release date for this update yet.
"We're still testing our fixes we need to be conservative with any estimates as far as ETA is concerned. We hope to have further updates on this topic before the end of the week."
Patch 2 went live on Xbox One on Monday and on PS4 and PC two days prior to that. It addressed another set of game-breaking bugs, including Arno's tendency to fall through the world or get stuck in hay carts forever. It's been a rough week for long-time Assassin's Creed fans.
Your Daily Blend of Entertainment News
Staff Writer at CinemaBlend.
Your Daily Blend of Entertainment News
Thank you for signing up to CinemaBlend. You will receive a verification email shortly.
There was a problem. Please refresh the page and try again.