Will Avengers 2 Get A Video Game?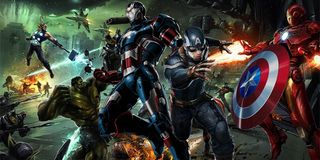 When super hero movies debut, they're usually accompanied by a tie-in video game. Marvel didn't follow that strategy with The Avengers. They may not make a video game adaptation for sequel The Avengers: Age Of Ultron, either.
Marvel's head of games TQ Jefferson told IGN that they'll only make a new AAA Avengers game if they know it's going to be a quality, successful game.
"The Avengers game will come when we have the right partner, that has the right vision, that has the time to develop a strong, competitive triple-A title and wants to do it right," Jefferson said. "It has to hit our three pillars: Fun and engaging gameplay, true to the characters, compelling story. Without hitting those notes, we shouldn't do it. Gamers, they know better. They're not going to flock to something that's sub-par."
Marvel learned this lesson the hard way. Jefferson said that the Captain America and Thor tie-in games both influenced their change in attitude toward games. The games, Captain America: Super Soldier and Thor: God of Thunder were both savaged by critics.
"I think the fact that there wasn't an Avengers game turned out in time for the film is indicative of Marvel's new attitude and the approach to how we find partners and build games."
This version of events is a bit warped. THQ's Brisbane studio actually was working on an Avengers brawler based on the movie. A report said that Marvel was actually impressed by the game but that THQ decided to close the studio and cancel the project anyway. The fact that no Avengers game launched alongside the film is more a product of THQ's inability to stay solvent and less a product of Marvel's exacting standards for video game adaptations.
After all, if Marvel was that picky about super hero video games at that point, they wouldn't have announced Avengers: Battle for Earth a week after the film hit theaters. Battle for Earth, a motion-based action game for Xbox 360 Kinect and Wii, was released the following fall to poor reviews.
But maybe Marvel finally has learned their lesson. I hope so because they have no shortage of good characters and storylines to inspire developers. DC Comics and parent Warner Bros. proved that it's possible to make great games based on comics if you don't treat them like film merchandise. Batman: Arkham Asylum and The Wolf Among Us are just a couple examples.
The Avengers: Age of Ultron will debut May 1, 2015 in North America. Even if Marvel doesn't produce a AAA game in time for the film, I'm sure they'll mark the occasion with a mobile game.
Your Daily Blend of Entertainment News
Staff Writer at CinemaBlend.