Batman: Arkham City Harley Quinn's Revenge Trailer, Screenshots Introduce Emo Harley And Friends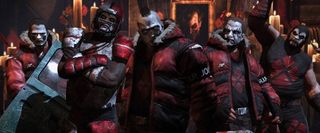 Today Rocksteady Studios revealed more of the "final chapter" of Batman: Arkham City. They've offered up screenshots and trailers for Harly Quinn's Revenge, an add-on coming at the end of this month.
In Revenge, The Joker's sidekick Harley Quinn has taken over Arkham City. She wants to exact revenge against Batman for what he did to her boss. Batman and Robin will need to work together to stop her.
The screenshots show Robin pummeling Harley Quinn's thugs. This will be the first time that the Boy Wonder is playable outside of his challenge map DLC. Robin has a unique set of gadgets and moves at his disposal, making him a nice change of pace from Batman.
The press release is pretty adamant about the fact that this is the end of Arkham City's story. Presumably it's the last DLC for the game, period. I'd recite some platitude about how it's tough to say goodbye to a solid game but it's been seven months since Arkham's debut. Most players have already said their goodbyes.
Harley Quinn's Revenge will be available for download on PS3 and Xbox 360 starting on May 29th. On that same day, a Game of the Year edition of Arkham will hit stores.
Image 1 of 5
Your Daily Blend of Entertainment News
Staff Writer at CinemaBlend.