Batman: Arkham City Special Edition EVGA 580 GTX Announced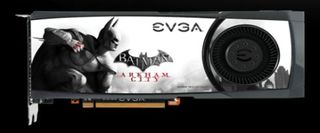 Even though Rocksteady's latest Batman game is already available for consoles and hit a slight delay for PC, it doesn't mean that the extra time won't be worth it because it will. With Arkham City due out this November for PC, EVGA has taken the slight delay as an opportunity to offer gamers and Batman fans alike an offer that will be hard to refuse.
EVGA announced today that a new Batman: Arkham City EVGA Special Edition GeForce 580 GTX is available for purchase, featuring a card casing with the Arkham City cover art on it, and it boasts an impressive 1.5GB of GDDR5 4ghz memory with 512 CUDA Cores and a core clock speed just under 800mhz.
In other words, you'll be able to run Batman: Arkham City on its highest settings with full PhysX, 3D Vision, NVIDIA Surround support without any problems. For those of you who are really into the heavy stuff, you can amp up the experience by getting dual cards and SLI'ing the crap out of the hardware for double the memory resources and even faster dual-card clock speed support. That would also enable you to make use of just over 3GB of GDDR5 video memory.
To help further prove just how awesome the new card is a new PhysX comparison trailer was released, so console gamers get to see what they're missing out on if they aren't playing on an amped up rig. You can check out the new trailer below or visit the Official EVGA Website for further information on the Batman: Arkham City EVGA 580 GTX edition.
Staff Writer at CinemaBlend.
Your Daily Blend of Entertainment News
Thank you for signing up to CinemaBlend. You will receive a verification email shortly.
There was a problem. Please refresh the page and try again.