Batman: Arkham Knight Will Bring Back These Allies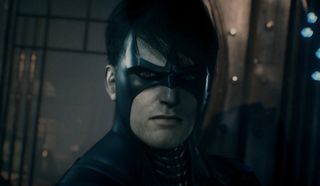 In Batman: Arkham Knight, Batman won't be alone in his fight to take back Gotham. A new set of teaser trailers released by Warner Bros. confirm the return of a few key allies of the Dark Knight.
The first of the teasers confirms that Azrael will be appearing in Arkham Knight:
Batman first meets Azrael in Arkham City. After tracking him throughout Gotham, Azrael formally introduces himself and delivers a cryptic message.
"Dark days are coming, Batman," Azrael tells Batman. "The prophecy is coming true. You are the warrior who will close the gates of hell. You are the one who will save this day and in doing so events will occur that you cannot stop. From the ashes of Arkham, the fires will rage and Gotham will burn. And you, you will burn too."
His predictions seem to come true in Arkham Knight. In the game, Gotham is taken over by Scarecrow and a collection of other villains. There's also been hints that Batman may die in his attempt to rescue the city.
In the comic books, Azrael's a crime-fighter like Batman even though the two don't always see eye-to-eye. It's unclear how much help he'll offer in Arkham Knight, though.
The other two teaser videos reveal that Catwoman and Nightwing will be coming back as well:
The description for each video says that a gameplay trailer entitled "All Who Follow You" will be released on Monday. This trailer will presumably include a fourth ally of Batman: Robin. His bio was recently added to the Arkham Knight website along with the dossiers on Azrael, Nightwing and Catwoman.
This trailer could also contain some brief footage of Oracle and Commissioner Gordon. Both made cameos in the previous gameplay video for the game.
I'm curious whether we'll get to become any of Batman's allies in Arkham Knight. The only playable characters confirmed for Arkham Knight so far besides Batman are the not-so-friendly Red Hood and Harley Quinn. Robin, Catwoman and Nightwing were all playable through Arkham City's DLC. That might hurt their chances of being playable in Arkham Knight, though. Rocksteady may decide they'd rather put players in the shoes of characters they haven't played before.
Your Daily Blend of Entertainment News
Staff Writer at CinemaBlend.
Your Daily Blend of Entertainment News
Thank you for signing up to CinemaBlend. You will receive a verification email shortly.
There was a problem. Please refresh the page and try again.