Catwoman Confirmed As Playable Character In Batman: Arkham City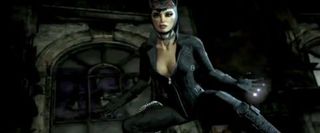 Good news for feline lovers and enthusiasts of femme fatales, it looks like everyone's favorite feisty female will finally be playable in the new Batman: Arkham City. Warner Bros Interactive confirmed today that Catwoman will have her very own story arc that coincides with Batman in the upcoming action title.
As stated in the press release….
A new trailer was also released to correlate with the Catwoman announcement, showing off plenty of T&A to get the fanboys all riled up. My only concern is that the first half of the trailer depicts the game as serious and gritty while the second half of the trailer kind of drudges in the cringe-worthy, sexy-tough female character who can beat up 10 guys and still have time to make a smarmy remark at the end. I'm hoping the camp factors stay with the trailer and the game will be a little less goofy.
You can check out the new gameplay trailer below and be sure to stay tuned in for more Batman: Arkham City news once E3 rolls around next week.
Your Daily Blend of Entertainment News
Staff Writer at CinemaBlend.