Batman: Arkham Knight's Ending Spoiled By Amazon?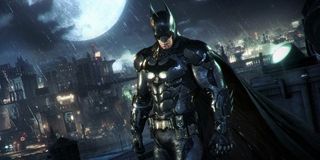 Batman: Arkham Knight won't hit stores for months but we may already know how it ends. A major spoiler was revealed by Amazon's listing for the game's Limited Edition.
Warning: potential spoilers
The Limited Edition includes, among other things, a statue of Batman. The inscription on the base is what's turning heads:
This seems to imply that Batman will die at the end of Batman: Arkham Knight. I wouldn't put this past Rocksteady Studios. They've said in the past that Arkham Knight is the final chapter in their series. Furthermore, they've shown a willingness to kill off major characters. Several major villains died throughout Arkham City.
Another possibility is that Gotham residents just think Batman is dead. After saving the city from his rogues gallery at the end of Arkham Knight, he retires and is never seen again. It's hard to imagine him ever hanging up his cowl but after wiping out every one of his nemeses, he might think this is his only chance to step down and lead a (somewhat) normal life. And again, Rocksteady's shown a willingness to make bold moves like this.
Anyway, after Videogamer and other sites began reporting on this spoiler-y inscription, Amazon switched out the image. The statue now simply reads "The Gotham Knight":
Nonetheless, they still describe the item as a "memorial statue," which is kind of a spoiler in of itself. It's an improvement, though.
The fact that Amazon (opens in new tab) had a different image on hand to use suggests that the first one was an older version of the statue. Maybe Warner Bros. and Rocksteady released that the original design of the statue was too much of a spoiler and go with a vaguer inscription.
The mere existence of this statue makes me lean toward the "faked death, early retirement" theory, though. The developer and publisher are smart enough to know what you'll think when you see this memorial of Batman. You're likely to expect him to die at the end of the game. That expectation would make some last-minute twist - Bruce Wayne's really in Europe with Catwoman! - a bit more surprising.
Batman: Arkham Knight will launch worldwide in June on PS4, Xbox One and PC. Fans of the Dark Knight can tide themselves over until then with a prequel comic book.
This poll is no longer available.
Your Daily Blend of Entertainment News
Staff Writer at CinemaBlend.