Batman: Arkham Origins Announced Along With Blackgate Mobile Game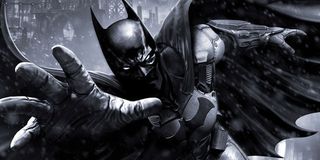 Today Warner Bros. officially confirmed the rumored prequel to Batman: Arkham Asylum and Arkham City. Batman: Arkham Origins will be arriving this fall on Xbox 360, PS3, PC, and Wii U.
Origins follows a younger Batman as he introduces himself to the supervillains of Gotham. The cover for the upcoming issue of Game Informer shows Batman facing off against Deathstroke, the mercenary and assassin. Earlier reports on the game suggested that he'll fight the Joker as well.
Rocksteady Studios, the developer behind Arkham City and Arkham Asylum, isn't handling Origins. Instead, the task falls to WB Games Montreal. The studio was created in 2010 specifically to make comic book games. They previously made the Armored Edition of Arkham City for Wii U. They'll be using the same modified Unreal Engine that Rocksteady utilized for the first two Arkham games.
Armature Studios, meanwhile, is developing an Arkham game of their own. Batman: Arkham Origins Blackgate, the first handheld game in the series, is in development for 3DS and Vita. It's a 2.5D Metroid-style game set after the events of Arkham Origins. The Metroid comparison isn't too outlandish, as Armature was founded by team members from the Metroid Prime trilogy.
Origins and Blackgate will arrive on October 25th, 2013.
Image 1 of 2
Your Daily Blend of Entertainment News
Staff Writer at CinemaBlend.
Your Daily Blend of Entertainment News
Thank you for signing up to CinemaBlend. You will receive a verification email shortly.
There was a problem. Please refresh the page and try again.