Batman: Arkham Origins Gets Three DLC Packs Today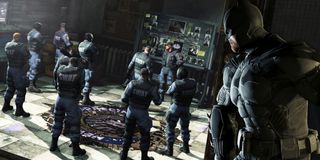 For those who thought they had seen all there is to see of the Caped Crusader's earliest adventures in Batman: Arkham Origins, the folks at Warner Bros. Interactive Entertainment have swooped in to offer up a bunch of new content including three DLC packs that are available right this very moment.
At this point, it's unlikely that anyone with their finger on the pulse of the gaming world hasn't heard about the Arkham series. Some of the best comic book-themed games to ever hit a console, this trio of games has followed the Dark Knight to an asylum run by the lunatics, a city overrun by criminals and, with Origins, a fledgling hero who finds himself the prime target of every villain prowling the city.
"Taking place before the rise of Gotham City's most dangerous criminals, the game features an expanded Gotham City and showcases a young and unrefined Batman as he faces a defining moment in his early career as a crime-fighter that sets his path to becoming the Dark Knight," reads a statement from Warner Bros. Games Montreal. "As the story unfolds, players will meet many important characters for the first time and forge key relationships."
Available for the Xbox 360, the PlayStation 3, Wii U and PC via Steam, all three of today's DLC packs are launching simultaneously across all platforms. If you happen to have a season pass for Arkham Origins, you don't need to pay a penny extra. Just hop online and get to downloading.
So let's take a look at what these three packs offer, shall we?
First up is the Infinite Earths Skins Pack. Going for $4.99 on PS3, 360 and PC or $3.99 on wii U, these skins can be used in the Arkham Origins challenge maps, online, or in the main campaign once you've completed the story. This pack includes skins for Earth 2 Dark Knight, Long Halloween Batman, Batman: Dark Knight of the Round Table, Thrillkiller Batman and Earth 2 Batman. Also included is Classic Tim Drake Robin, available only in multiplayer mode. My only reaction to this is, where the heck is Dark Claw? You know, that crazy mix of Batman and Wolverine from back in the 90's?
Anyway, moving right along. Next up is the Black Mask Challenge Pack, which is going for $1.99 across all batforms. This pack "allows players to take on Gotham's most dangerous crime lord in two all new challenge maps: Lot Full and Hidden Facility," according to the press release. "All players can defend the city as Batman, and those who own the Deathstroke Challenge Pack can also choose to play as Deathstroke in this new challenge pack."
Last but not least is the Online Supply Drop #1, landing on all platforms for $2.99 and providing new multiplayer content including two new clothing items with "game-enhancing features" for Joker and Bane, a new sawn-off shotgun and extra weapon progression bonuses and skins. The packs are all available right now for those of you looking to extend and expand your play experience with Batman: Arkham Origins.
Your Daily Blend of Entertainment News
Staff Writer for CinemaBlend.