Arkham Origins, Assassin's Creed 4, Ace Attorney 5 Hit Nintendo This Week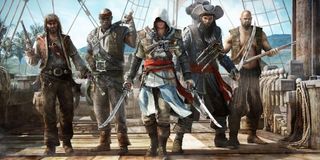 The holiday season keeps on rolling as this week's numerous additions to the Nintendo Wii U and 3DS library include the likes of Batman, Phoenix Wright, Sonic and a pirate assassin.
Considering how few games have arrived on Nintendo's home console this first year, Wii U owners should be feeling pretty spoiled this week as two big AAA blockbusters make their way to the system. Available through both the Wii U eShop and at physical retailers, this week's big offerings are Assassin's Creed IV: Black Flag and Batman: Arkham Origins.
Come to think of it, these two games have quite a bit in common. You play as a character who hides his identity, sneaks through the shadows and across rooftops and dishes out vigilante justice on the regular. In one you're a pointy-eared billionaire with abandonment issues and, in the other, you're a tattoo-riddled pirate with an axe to grind.
Assassin's Creed IV: Black Flag is available Oct. 29, taking gamers back to 1715 and sporting all of the daring antics the series has become known for, as well a revamped sea battle system. Arkham Origins, on the other hand, arrives today and features a Dark Knight who is only just starting out into his life of fighting crime. Both are big gets for the Wii U, which has had some trouble finding third party support over the months.
If you prefer to fight crime on the go, then you can do exactly that working inside or outside the legal system with two new games for the Nintendo 3DS this week. Phoenix Wright: Ace Attorney - Dual Destinies takes gamers back into the court room for a whole new batch of cases while Batman: Arkham Origins Blackgate tells a tale immediately following its console counterpart, but taking place in a sie-scrolling, Metroidvania-style world. Whether you want to throw around objections or steel-knuckled punches, the 3DS has you covered this week.
Also arriving on both the Wii U and 3DS is Sonic: Lost World. This latest addition to the legendary Sonic series basically takes everyone's favorite hedgehog down the Mario Galaxy route, complete with unique 3D worlds and all of the speed you've come to expect from Sonic. Both the home and portable versions of the game are available starting today in stores or via the Nintendo eShop.
If you'd rather get in some old school gaming this week, then there's a new entry in the Virtual Console for both the Wii U and 3DS. The home console is getting Pinball, which should be self-explanatory, while the 3DS receives Star Soldier, a vertically scrolling shooter from the NES day.
But wait, there's more! The NES classic, Baseball also hits the Wii U digital marketplace this week, alongside Monster High: 13 Wishes and Pac-Man and the Ghostly Adventures. Over on the 3DS, gamers can also grab the portable version of that Monster High game, as well as Regular Show: Mordecai and Rigby in 8-Bit Land, Jewel Master: Cradle of Egypt 2 and My Little Baby 3D. And finally, for those looking to save a little money, Urban Style Freestyle has been marked down to $4.99 through Nov. 7 on the 3DS eShop. And, trust me, it's totally worth it.
Staff Writer for CinemaBlend.
Your Daily Blend of Entertainment News
Thank you for signing up to CinemaBlend. You will receive a verification email shortly.
There was a problem. Please refresh the page and try again.