Battlefield 3 Can Support 64-Players On PS3, Xbox 360 But No Vehicles, Destructibility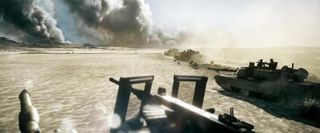 A lot of people have been fighting over the differences between the various versions of Battlefield 3, arguably the first next-generation game (for PC) that will be coming out this fall for multiple platforms. However, DICE has had to make some major sacrifices to the gameplay of Battlefield 3 in order to fit it onto consoles and they admit that if they had kept 64-players as an option for consoles then they would have had to axe graphics, destructibility and all the vehicles.
Speaking on trading off features and functions in the game, DICE CEO Patrick Bach had a talk with the guys and gals at German site, GameZone (via CVG) saying that…
Very true…where do you cut when the technology limits you on what you can do? It would be interesting if they did make variations of Battlefield for consoles that did focus on specific features from the PC version…such as a Battlefield that focused only on destroying environments, or one that just had a ton of players and vehicles but no destructibiliyt, etc.
Of course, Bach didn't want to draw the ire of the community with remarks like "They're just lazy" or "They're fanboys of 'X' console…" and he quickly stated that…
There's always the option of just making the game look like a PS2 title with low-res textures and then adding all the other fun stuff in there, but I get the feeling a lot of people wouldn't be very fond of that business decision.
You can learn more about Battlefield 3, which is due out this October for the Xbox 360, PS3 and PC, by visiting the Official Website.
Your Daily Blend of Entertainment News
Staff Writer at CinemaBlend.