Battlefield Hardline DLC Criminal Activity's Features Revealed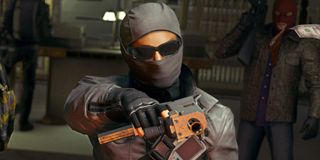 Battlefield Hardline's first DLC pack, Criminal Activity, will be arriving this summer with new content for the game's multiplayer. Hardline producer Zach Mumbach provided the first details on this add-on in a new interview.
During an episode of "Don't Revive Me Bro" podcast, Mumbach said that Criminal Activity will add four multiplayer maps to the game. They'll take players to locations throughout California and Florida. Two of these maps will be set at night, so players will get better use of weapon attachments like infrared scopes or flash hiders.
One common gripe about Battlefield Hardline is that the environments are less destructible than previous games in the series. Visceral Games is aware how much players like to blow things up so the new maps in Criminal Activity will have "a little bit more" destructibility than the base game. Mumbach says that it will be clearer to players what can be blown up and what can't be.
Criminal Activity's new maps will offer players more vehicles as well. Don't expect airplanes, though. Visceral seems committed to their decision to exclude them from the game.
"No planes, Mumbach said. "I just don't see how to work it into the fiction of what we're doing."
It's weird to play a Battlefield game where jets aren't dogfighting above. The lack of planes overhead does make the battles feel smaller than Battlefield 4's and Battlefield 3's. Still, it doesn't fit the cops vs. criminals theme of the game. Granted, the idea of police and thugs waging all-out war in city streets is already silly. The idea of these criminals also having their own fighter jets is too absurd.
While Criminal Activity and the other upcoming Hardline expansions will cost money, Mumbach said Visceral may let players try out the DLC for free. He suggested that Battlefield Hardline Premium members would be able to bring non-Premium friends along into new maps. He still doesn't know for sure if that feature will happen, though, because they have some issues to work out with that plan first.
Either way, Hardline players can look forward to free content in the future. The patch accompanying Criminal Activity's launch will add a new weapon for everyone.
Criminal Activity will be coming this summer, with Premium members will get two weeks of early access. Three more expansions are planned for the coming year. Robbery will come this summer as well and Getaway will follow in the fall. The final DLC, Betrayal, is scheduled for early 2016.
Your Daily Blend of Entertainment News
Staff Writer at CinemaBlend.
Your Daily Blend of Entertainment News
Thank you for signing up to CinemaBlend. You will receive a verification email shortly.
There was a problem. Please refresh the page and try again.