Bayonetta 2 Demo Arrives For Wii U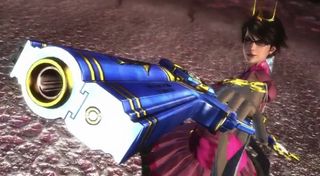 If you really want to get in on one of the most over-the-top action games due for release this fall, you can grab a taste of the action with a demo. What demo am I talking about? Bayonetta 2. The game is currently available in Japan and it's due for release at the end of the month in North America and Europe, but you can sample some of the gameplay today.
The demo is available right now on Nintendo's digital eShop, featuring a playable slice of the game for those looking to spice up their third-person library with a bit of anime-style shooting and combat with a hint of overtly comical sexuality. As noted on the official Nintendo website...
The game sports more than just Platinum Games' typical fast-paced, break-neck speed cinematic action, the sequel to one of the most niche action titles of seventh gen also features larger-than-life bosses that really pushes the limits of the Wii U.
You can see the game in action with Nintendo's latest trailer below.
There is a bit of a problem with the game, though. Digital Foundry ran into some rather unsightly frame drops on the Wii U version of Bayonetta 2, particularly with those fantastical bosses mentioned in the paragraph above the trailer.
Of course, this frame-rate issue may or may not be fixed by the time the game releases in North America. It's unlikely but not impossible. The port of Bayonetta from the Xbox 360 to the Wii U actually fared a lot better on the performance front than Bayonetta 2 did on the Wii U.
There have been a lot of complaints from some developers about getting the hang of the Wii U's hardware and adjusting to the system's unorthodox architecture. Even still, there have been some interesting titles churned out for Nintendo's little console and hopefully we can see more games make better use of the architecture in the near future.
You can grab the playable demo of Bayonetta 2, for free, right now, from Nintendo's eShop. This should give you a good gauge as to whether or not you'll want to give the game a purchase when the release date rolls around.
You can look for Bayonetta 2 to become available, exclusively on the Wii U, starting October 24th. You can learn more about the game by paying a visit to the official website.
Your Daily Blend of Entertainment News
Staff Writer at CinemaBlend.