Bayonetta 2 May Feature Multiple Playable Characters In Co-op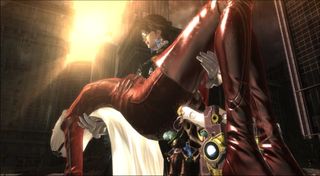 New information has surfaced indicating that Platinum Games' upcoming Bayonetta 2 – the Wii U exclusive due for release this October – may have multiple characters for players to choose from in the multiplayer cooperative mode.
Originally, Game Ranx noted that during this year's E3 it was made known that Bayonetta 2 would sport a two-player online cooperative mode called "Tag Climax mode". The name of the mode seems fairly self evident, as two players would assume the roles of Bayonetta and her rival Jeanne and battle throughout various stages a beefy selection of angels and demons. However, that may not be entirely true.
Game Ranx noted on the official Bayonetta 2 website that the description for the game mode reads as follows...
Now, Game Ranx originally assumed that this was just the standard wording to describe the ability to pick between Bayonetta and Jeanne. However, they began to speculate that perhaps it really did mean that there could be more characters to choose from in the mode.
In fact, Player Essence did some more digging on the matter and decided to scope out the other official Bayonetta 2 website for the U.K., version of the game. Interestingly enough, here's what they found from the site, check it out below...
This almost changes things to some large degree as the description above seems to open up the strong possibility that there are multiple characters to choose from, each with their own special abilities, perhaps?
Of course, we still have to take this with a grain of salt. Remember that it wasn't too long ago that Sony had mistakenly updated their web page to show that Watch Dogs on the PlayStation 4 would be 1080p at 60fps, when in reality it turned out that the game was only 900p at 30fps on the PS4.
Is it possible that the U.K., website misinterpreted something from Nintendo and misprinted the description? Or is it possible that the U.S., website failed to make clear that there's more to the two-player co-op mode than what was originally let on?
Well, we'll likely find out when the game draws closer to its release date.
For those of you who didn't know, Bayonetta 2 is a third-person, action-adventure game that prides itself on over-the-top combat and boss fights. The game will run at a hard-locked 60 frames per second, and it will also come with the original Bayonetta that released on the Xbox 360 and PS3. The highlight is that the original Bayonetta will be available as a free game for Wii U owners who purchase Bayonetta 2.
Platinum Games' new title for Nintendo's home console is scheduled to release this October, following the launch of Hyrule Warriors.
Staff Writer at CinemaBlend.
Your Daily Blend of Entertainment News
Thank you for signing up to CinemaBlend. You will receive a verification email shortly.
There was a problem. Please refresh the page and try again.