Beyond Good And Evil HD Announced For Xbox Live Arcade, PSN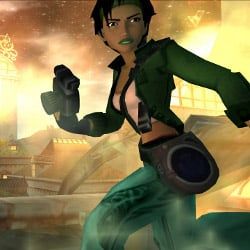 Beyond Good and Evil 2 is nowhere to be seen and and Lord knows when it'll actually be released. Fortunately, Ubisoft is preparing an Xbox 360/PS3 remake of the first game to tide everyone over.
BG&E stars Jade, a reporter investigating a government conspiracy. She'll have to infiltrate high-security government installations in order to dig up evidence. If caught, she can rely on her martial arts training to dispense any foes. Add in a few puzzles and a hovercraft and you've got an interesting hybrid game that sadly went unnoticed by many.
Beyond Good and Evil HD adds 1080p high-def graphics to the 2003 classic. Character models and textures will both be spruced up. The musical score is being remastered as well.
BG&E HD will launch in 2011. It will be available for purchase through Xbox Live Arcade and PSN.
Staff Writer at CinemaBlend.
Your Daily Blend of Entertainment News
Thank you for signing up to CinemaBlend. You will receive a verification email shortly.
There was a problem. Please refresh the page and try again.