Blade And Soul Won't Require Gamers To Upgrade Their PCs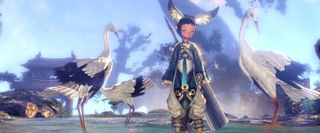 With several high profile MMOs in the pipeline for releases later this year and next year, a lot of PC gamers have been biting their fingernails and wondering, "Will I need to upgrade my rig?" Well, dear nail-biters, there is some good news and it involves resting easy if you have at least an Nvidia 8800 GT video card and an Intel Core E6600 CPU.
According to MMOSite…
Very good news? Very. While this isn't an official system requirement announcement, it basically means that computers from about four years ago are still viable for running the CryEngine powered game. Blade and Soul boasts next-generation visuals and gameplay effects, as showcased in many of the gameplay trailers so it's probably comforting knowing that a several year old PC with a 8800 GT can squeeze out an average between 24 and 30fps. Not bad.
Also, according to NCSoft, the game is in development simultaneously for PC, the Xbox 360 and PS3. However, a lot of MMOs are designed for home consoles but rarely ever make the publishing green-light.
Blade and Soul is scheduled to begin beta testing at the end of this year leading into early 2012. No official release date has been set for the game.
Staff Writer at CinemaBlend.
Your Daily Blend of Entertainment News
Thank you for signing up to CinemaBlend. You will receive a verification email shortly.
There was a problem. Please refresh the page and try again.