Blades Of Time Coming To PC, Mac On April 18th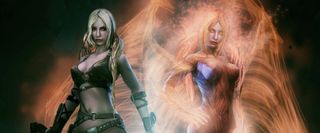 Gaijin Entertainment's recent co-op release for the Xbox 360 and PS3, Blades of Time, is not a home console exclusive. The company recently announced that a version of the game is in the works for PCs and Macs and will arrive in April.
The game itself is about players assuming the role of Ayumi, a buxom treasure hunter who can utilize a variety of deadly weapons against dangerous foes. The game mixes anime fan-service with over-the-top action-violence as well as giving gamers gorgeous vistas to see and beautiful environments to explore.
The press release briefly covers some of the exclusive PC/Mac features for Blades of Times, saying...
What's more is that the game also sports a "Time Rewind" feature just like Blinx, where gamers can attack an enemy and then rewind and then attack a different enemy while the replay attacks a separate foe. If you're into that sort of stuff then it's just some extra icing on the cake.
You can look for Blades of Time to land on PC and Mac via Steam on April 18th. You can check out the limited edition details below or visit the Official Website for more info.
Blades of Time: Limited Edition on Steam includes:
• The full Blades of Time game (formerly a console exclusive)
• The Dismal Swamp mission add-on
• Sky Islands map for Outbreak mode (exclusive to PC/Mac)
• Downloadable art book
• Blades of Time-inspired HD wallpapers
• Original Blades of Time soundtrack
Your Daily Blend of Entertainment News
Staff Writer at CinemaBlend.