BlizzCon 2011: World Of Warcraft: Mists Of Pandaria Expansion Revealed With Trailer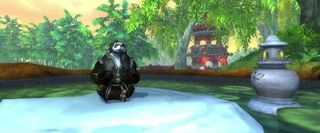 During BlizzCon 2011's opening ceremony, Blizzard revealed the fourth expansion pack for their MMO World of Warcraft. It's called Mists of Pandaria, the same title that popped up in a trademark filing earlier this year.
"Shrouded in fog since the world was sundered more than ten thousand years ago, the ancient realm of Pandaria has remained unspoiled by war," reads Blizzard's description of the expansion. "Its lush forests and cloud-ringed mountains are home to a complex ecosystem of indigenous races and exotic creatures -- including the noble and enigmatic pandaren. Will the mists of Pandaria part to reveal the world's salvation... or will the battle to control this new land push the Horde and the Alliance over the brink of war and into total annihilation?"
The expansion bumps up the level cap to 90. It also introduces a new continent, Pandaria, for players to quest in. The talent system will be overhauled, as well.
While the expansion will no doubt have new dungeons and raids, it adds new types of PvE content as well. In Scenarios, friends join up to complete objectives such as defending an area against invading monsters. Dungeon "challenge" modes are time trials that let you earn prestigious rewards. Pet Battles allow players' companion pets to battle in an all-new minigame.
Both Horde and Alliance alike will be able to make Pandaren characters - essentially giant walking pandas. Here are the Pandaren racial abilities:
Bouncy: reduces fall damage by half.
Inner Peace: double rested XP.
Gourmand: +15 to cooking.
Epicurean: double stats to food buffs.
A new class, Monk, is a master of Pandaren martial arts. Presumably only Pandarens can make them but we'll see. They can be a damage dealer, tank, or healer.
Staff Writer at CinemaBlend.
Your Daily Blend of Entertainment News
Thank you for signing up to CinemaBlend. You will receive a verification email shortly.
There was a problem. Please refresh the page and try again.