BlizzCon 2013 Ticket Gives You Free WoW, StarCraft 2, Diablo 3, Hearthstone Items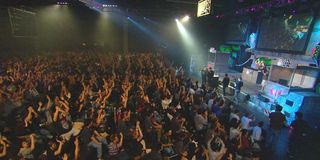 Blizzard is once again offering exclusive in-game items for gamers who purchase real or virtual tickets to BlizzCon. BlizzCon 2013 tickets will give you access to bonuses for all of the company's current games.
StarCraft 2 players will get access to Tearin' Stitches portrait and a Stitches' Hook decal. Stitches was originally a character from World of Warcraft who terrorized the town of Darkshire. For the purposes of this portrait, he's wearing zombie armor so he looks StarCraft-y. He's supposedly a character in the upcoming MOBA Blizzard All-Stars, a game that Blizzard may talk about more during BlizzCon.
The next bonus item is a card for Hearthstone: Heroes of Warcraft. All Blizzard says of this card is that it's of a "mystery minion." Does that mean that you'll receive a random minion? Or are they just keeping the character's identity under wraps because they're related to an announcement planned for the convention?
World of Warcraft players will get - what else - an exclusive murloc pet. Murkalot is a pink-hued murloc dressed up in medieval body armor. He's modeled after the Crusader, the new playable class coming in the Diablo 3 expansion Reaper of Souls.
You'd expect the free Diablo 3 item to be related to Reaper of Souls as well, as that expansion will probably be one of the main focuses of this year's convention. Instead, though, D3 players will get a banner adorned with the BlizzCon logo. It's a bit underwhelming but hey, it's a freebie.
BlizzCon 2013 is a weekend-long celebration of the company's games. Attendees can watch discussion panels hosted by Blizzard employees, participate in fan contests, and log hands-on time with upcoming games. Blizzard usually saves a big announcement or two for the show as well. Other festivities include a closing concert and the StarCraft 2 World Championship Series Global Finals. BlizzCon will be held on November 8th and 9th at the Anaheim Convention Center in Anaheim, California.
Tickets to attend BlizzCon 2013 in person have been sold out since last spring. However, you can experience the convention remotely with a $39.99 Virtual Ticket. The Virtual Ticket allows you to watch the BlizzCon events in HD through DIRECTV or your internet browser. You'll also get access to the bonus items previously mentioned as long as you live in one of the following territories: the Americas ("including those serving players in Latin America, Australia, New Zealand, and Southeast Asia"), Europe, Russia, Taiwan, and Korea.
Image 1 of 4
Your Daily Blend of Entertainment News
Staff Writer at CinemaBlend.
Your Daily Blend of Entertainment News
Thank you for signing up to CinemaBlend. You will receive a verification email shortly.
There was a problem. Please refresh the page and try again.