Blizzard Won't Have To Change Overwatch's Name After All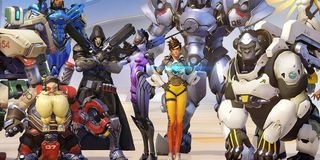 Blizzard got some good news about their multiplayer shooter Overwatch. The company suing them over the game's title has decided to drop its lawsuit.
The drama started back in 2014 when Blizzard filed a trademark for the title Overwatch. They soon learned that another company, Innovis, had applied to register Overwatch a year earlier. Because the products mentioned on Innovis' trademark app included "a downloadable computer game" and "video game software," the United States Patent and Trademark Office suspended Blizzard's request.
However, there was a clear out for both companies. Innovis' Overwatch is a mobile app designed to be used in conjunction with paintball. For example, you could use it to communicate with teammates or survey the battlefield. In other words, it's very different than the online shooter Blizzard was working on. Innovis' product isn't even a video game. There's no reason they couldn't use the same name for their different products.
McArthur Law Firm notes that the two companies entered into an agreement whereby Innovis would remove the mention of video games from its trademark and promise not to oppose Blizzard's trademark for Overwatch as a video game title. Innovis would also issue a written agreement that says they understand no one would confuse their mobile app with Blizzard's game in spite of the shared name. The co-existence agreement, signed in the summer of 2014, seemed to put the matter to rest.
However, a year later, Innovis sued Blizzard for trademark infringement. They alleged that Blizzard's advertising for Overwatch has hurt Innovis's ability to promote their own product:
As of late October, though, Innovis and Blizzard have settled their dispute. Innovis has filed to abandon their trademark, paving the way for Blizzard to lock up the Overwatch name. The terms of the settlement were unclear but the McArthur Law Firm says that Blizzard likely paid a "hefty sum" to Innovis to resolve the matter.
No matter how the lawsuit was resolved, Blizzard must be relieved that it's now over. They've spent a ton of money marketing Overwatch over the past few months. It would be costly for them to get the word out about the name change - not to mention a bit embarrassing.
Overwatch's closed beta started last month and will be supplemented by larger-scale stress tests. This weekend, Blizzard announced a new professional gamer character for the roster.
Staff Writer at CinemaBlend.
Your Daily Blend of Entertainment News
Thank you for signing up to CinemaBlend. You will receive a verification email shortly.
There was a problem. Please refresh the page and try again.