Overwatch's Newest Character Is Professional StarCraft 2 Player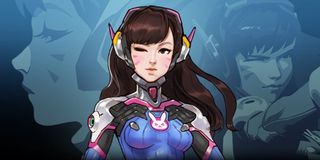 Overwatch's cast of characters is getting more and more diverse. The latest addition to the roster is a professional gamer.
Hana "D.Va" Song is a young Korean woman who plays StarCraft 2 professionally. She hung up her mouse and keyboard to defend Korea, though. Here's the official bio released by Blizzard over the weekend:
Blizzard has hinted at this character in the past. Overpwn notes that there's a poster of her in the arcade in Overwatch map Hanamura.
I'd say D.Va's the strangest addition to the Overwatch roster. However, that honor belongs to the hyper-intelligent gorilla Winston. D.Va is certainly a surprising character concept, though. We don't see professional gamers as in-game heroes very often.
In an amusing twist, Blizzard didn't announce her on Overwatch's website. Instead, they published her bio on the StarCraft 2 World Championship Series website alongside profiles for other real players.
The developers haven't published any other details on her just yet. We don't know what kind of skills she has other than playing StarCraft 2. I wonder whether her skills will relate back to SC2 in some way (like summoning units from the game?) or whether Blizzard will take the design in a completely different direction.
Overwatch is set on Earth in the near future so it's not surprising that StarCraft 2 exists there. It's funny that Blizzard would write one of their games into the lore for another game. Are we going to see a World of Warcraft gold farmer character next? What about a Hearthstone bot? Diablo 3 item dupers?
Blizzard's always been fond of cross-promotion. Purchasing one Blizzard game traditionally comes with in-game items for other titles by the company. Their most recent releases Hearthstone and Heroes of the Storm are inhabited by characters from their other franchises.
Overwatch's closed beta launched last week. Blizzard invited a small pool of players to try out wide swathes of content from the multiplayer shooter and offer feedback. To stress test the servers, the company will also hold larger test weekends in the coming months.
This poll is no longer available.
Staff Writer at CinemaBlend.
Your Daily Blend of Entertainment News
Thank you for signing up to CinemaBlend. You will receive a verification email shortly.
There was a problem. Please refresh the page and try again.