Blizzard Will Launch Overwatch Beta This Month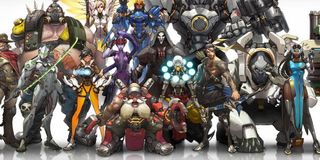 PC gamers will soon be able to try out multiplayer shooter Overwatch. Today Blizzard announced that the beta test for the upcoming free-to-play game is coming by the end of the month.
The beta will kick off on October 27th in the Americas region. European and Asian tests will follow but no dates were provided for them yet. The closed beta will be limited to a small group of testers. They'll have regular access to the game so they can play as much as they want and offer loads of feedback on the gameplay features. Blizzard will invite more gamers to the test as needed
Even if you don't get invited to the closed beta, though, you'll have a chance to test out the game. Blizzard will be holding larger beta weekends to test the server hardware:
Blizzard says that they're planning multiple beta weekends for Overwatch throughout different territories. They're not guaranteeing access to everyone who signed up for the beta but these stress tests should help a larger pool of player get hands-on time with the shooter. The first of these beta weekends will occur after BlizzCon, the annual convention taking place on November 6th and 7th.
The beta test is limited to Windows and in order to play it you'll need the Battle.net desktop app. For a chance at beta access, you must opt into it through the beta settings on your Battle.net account. Emails with instructions will be sent out to all invited testers. In today's announcement, Blizzard reminded players to check their Spam folders for emails from them just in case.
When a beta test for a new game is on the horizon, there's usually an uptick in phishing attempts. Be cautious when reading any emails with alleged Overwatch beta keys. It's possible that they're just a scam to get your personal information. If you're unsure about an email, you can just log into your Battle.net account to make sure if your account was flagged for beta access.
Overwatch doesn't have an official release date yet. If Heroes of the Storm and Hearthstone are any indication, Blizzard will continue expanding the beta over time until everyone who wants to play can do so.
Staff Writer at CinemaBlend.
Your Daily Blend of Entertainment News
Thank you for signing up to CinemaBlend. You will receive a verification email shortly.
There was a problem. Please refresh the page and try again.