Borderlands The Pre-Sequel's Claptastic Voyage Is First Story DLC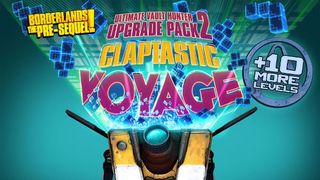 Borderlands: The Pre-Sequel is finally getting some story DLC. Claptastic Voyage is a brand-new campaign that will debut later this month.
Claptastic Voyage is set after the events of the main campaign. Handsome Jack learns that Tassiter, the former boss of the Hyperion Corporation, has hidden some powerful software away inside Claptrap's memory. The mercenaries from Pre-Sequel will journey into Claptrap in digital form to track down this special code for Jack.
The new campaign is filled with familiar locations and characters. However, because everything takes place in Claptrap's memory, everything's a bit off. The characters are essentially holograms, with bits of code drifting off their edges. The landscape is filled with digital glitches and artifacts to remind us we're traveling through software. Large bits floating in the sky can be shot to cause elemental damage around them.
This digital world comes with a few surprises, like "glitched" weapons. These weapons have a binary code skin and interesting special abilities. For example, a glitched gun might suddenly start firing slower and more powerfully.
The Claptastic Voyage DLC also comes with another boost to the level cap. Between that and the previously released Ultimate Vault Hunter Pack, you'll be able to bring your character to level 70. This ensures that you can get deep progression through all three of your skill trees.
Gearbox Software will release Claptastic Voyage on March 24th. That's the same day that Borderlands: The Handsome Collection will debut on PS4 and Xbox One. Handsome Collection comes with upgraded versions of Borderlands 2 and Borderlands: The Pre-Sequel along with all of those games' DLC packs.
"If you've already picked up the Season Pass, Claptastic Voyage and the Ultimate Vault Hunter Upgrade Pack 2 are included," Gearbox said on their website. "For players that haven't, these items will be sold together as one pack for $9.99. The Season Pass is still available for $29.99 and grants access to all four add-on content packs – a $39.96 value! – as they become available on Xbox Live, PSN, Windows PC, Mac, and Linux. While each add-on content pack is available for sale individually, the Season Pass offers all four packs for just about the price of three!"
While Claptastic Voyage is the first story-based DLC for Borderlands: The Pre-Sequel, the game's received several other add-ons since launch. Aurelia and Handsome Jack's doppleganger were both introduced as playable characters. The Holodome Onslaught Pack.
Staff Writer at CinemaBlend.
Your Daily Blend of Entertainment News
Thank you for signing up to CinemaBlend. You will receive a verification email shortly.
There was a problem. Please refresh the page and try again.