Borderlands Coming To PS4 And Xbox One With Split-Screen, Save Transfers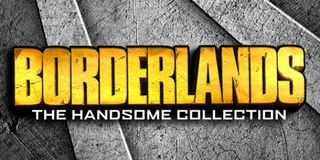 The rumors were true: Borderlands is coming to new-gen consoles. Today 2K And Gearbox announced Borderlands: The Handsome Collection will arrive on Xbox One and PS4 in March.
The bundle is named after the series villain Handsome Jack and includes the two games that center around him: Borderlands 2 and Borderlands: The Pre-Sequel. Gearbox is also throwing in all of those games' DLC packs*.
The first Borderlands isn't part of the bundle. It's somewhat surprising that Gearbox would choose to include an interquel but not a numbered entry in the series. I can't disagree with the decision, though. I think that Borderlands 1 was actually the weakest of the bunch. You can argue that Pre-Sequel was unnecessary in terms of story but it had a lot more variety in terms of weapons, environments and enemies than the first game.
Both games will have upgraded visuals on PS4 and Xbox One. Players who own those games on Xbox 360, PS3 or PS Vita will be able to transfer their save files, characters and Badass Rank to the new-gen versions. However, these transfers only work within the same console family (Xbox 360 to Xbox One, PS Vita and PS3 to PS4).
Arguably the most exciting feature of the PS4 and Xbox One versions is split-screen. Up to four players will be able to play simultaneously on the same television. This is the first time that Borderlands games will have four-player split-screen outside of fan mods.
Borderlands: The Handsome Collection will cost $60. Superfans can also opt for the Claptrap-in-a-Box Edition. This $400 bundle comes with a remote controlled Claptrap robot, 12 lithographs and a collectible steel case. The robot can be controlled with a smartphone, say lines from the games, and stream video to the smartphone through its eye. Only 5,000 copies of the Claptrap-in-a-Box Edition will be sold worldwide.
Gearbox boss Randy Pitchford said on Twitter that Batman: Arkham Origins Blackgate developer Armature Studios and Marvel vs. Capcom Origins developer Iron Galaxy Studios both helped out with the ports. Iron Galaxy previously assisted Gearbox in bringing Borderlands 2 to the Vita.
Pitchford added that the Xbox One and PS4 versions would not have happened without these studios' help:
Borderlands: The Handsome Collection will hit Xbox One and PS4 on March 24th in North America and then spread to other countries on the 27th.
* In case you're curious, here's the full list of DLC included in the The Handsome Collection (via Borderlands' website):
Borderlands 2
Captain Scarlett and Her Pirate's Booty (campaign add-on)
Mr. Torgue's Campaign of Carnage (campaign add-on)
Sir Hammerlock's Big Game Hunt (campaign add-on)
Tiny Tina's Assault on Dragon Keep (campaign add-on)
The Ultimate Vault Hunter Upgrade Pack (level cap increase)
Gaige the Mechromancer (playable class)
Krieg the Psycho (playable class)
Ultimate Vault Hunter Upgrade Pack 2: Digistruct Peak Challenge (level cap increase & challenge arena)
Creature Slaughter Dome (challenge arena)
T.K. Baha's Bloody Harvest (Headhunter Pack)
The Horrible Hunger of the Ravenous Wattle Gobbler (Headhunter Pack)
How Marcus Saved Mercenary Day (Headhunter Pack)
Mad Moxxi and the Wedding Day Massacre (Headhunter Pack)
Sir Hammerlock vs. the Son of Crawmerax (Headhunter Pack)
Character Customization Packs
Collector's Edition Pack
Commando Madness Pack
Commando Supremacy Pack
Commando Domination Pack
Siren Madness Pack
Siren Supremacy Pack
Siren Domination Pack
Gunzerker Madness Pack
Gunzerker Supremacy Pack
Gunzerker Domination Pack
Mechromancer Madness Pack
Mechromancer Supremacy Pack
Mechromancer Domination Pack
Assassin Madness Pack
Assassin Supremacy Pack
Assassin Domination Pack
Mechromancer Steampunk Slayer Pack
Gunzerker Dapper Gent Pack
Psycho Dark Psyche Pack
Psycho Madness Pack
Psycho Supremacy Pack
Psycho Domination Pack
Siren Glitter and Gore Pack
Commando Haggard Hunter Pack
Assassin Stinging Blade Pack
Mechromancer Beatmaster Pack
Gunzerker Greasy Grunt Pack
Psycho Party Pack
Siren Learned Warrior Pack
Commando Devilish Good Looks Pack
Assassin Cl0ckw0rk Pack
Borderlands: The Pre-Sequel
Handsome Jack Doppelganger Pack (playable class)
Ultimate Vault Hunter Upgrade Pack: The Holodome Onslaught (level cap increase & challenge arena)
Shock Drop Slaughter Pit (challenge arena)
Upcoming Season Pass Content (playable class)
Upcoming Season Pass Content (campaign add-on)
Staff Writer at CinemaBlend.