Borderlands: The Pre-Sequel's Next Character Is Lady Hammerlock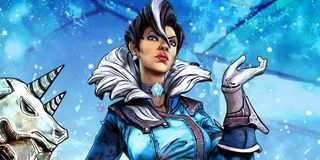 Gearbox Software revealed at PAX South today that they're adding another character to Borderlands: The Pre-Sequel. Lady Aurelia Hammerlock, sister to legendary hunter Sir Hammerlock, will be introduced to the game in an upcoming DLC pack.
"Aurelia is the heir of the Hammerlock family fortune, but when she's not riding her hoverbike through the endless hallways of her orbital turbomansion, she's out hunting the latest and greatest game in the galaxy," Gearbox said. "If these expeditions should put her in conflict with her younger brother Alistair – aka Sir Hammerlock – all the better. The only thing more fun than shooting a rare animal Alistair intended to study is the look of abject horror and surprise on his face once Aurelia wears its carcass like a jaunty scarf."
"Normally, Lady Hammerlock would never be seen within a light year of Pandora, but she's grown bored as her turbomansion grows cold, while her lust for violence grows hot. She's headed to Elpis with nothing more than an expensive gun, an experimental Cryo diadem, and a powerful belief that shooting angry things in the face is a good deal of fun."
Lady Hammerlock's action skill is Cold as Ice. She tosses a Frost Diadem Shard that homes in on an enemy and damages them over time. If the Shard kills the enemy, it will bounce to a new enemy. It sounds like this chain effect can happen multiple times, enabling Lady Hammerlock to clear out rooms of weak or damaged minions.
Like other characters, Lady Hammerlock has three skill trees that players can advance. Huntress improves her sniping ability, for example giving her a critical hit bonus for every consecutive hit she lands. Cold Money gives her ice abilities such as imbuing weapons with Cryo damage. The third tree, Contractual Aristrocracy, is well-suited to co-op play. She can give herself and a teammate mutual bonuses by marking them as her "servant."
This will be the second DLC character released for Borderlands: The Pre-Sequel since its launch last fall. The first was a digital clone of Handsome Jack.
The other add-on rolled out for the game so far is The Holodome Onslaught, which raised the game's level cap and added a new combat arena. I'm personally disappointed that they haven't released any new story-based missions yet. I guess players who enjoy replaying the campaign for better loot and greater challenges are happy.
The Lady Hammerlock Pack will be added to the PS3, Xbox 360, and PC versions of The Pre-Sequel on January 27th in North America. If you live in Europe or Asia, you'll have to wait until the following day. The DLC will be sold on its own for $9.99. You could also buy the $30 Season Pass to get this DLC along with the Jack Doppleganger Pack and Holodome Onslaught.
Alternately, you could wait until Borderlands: The Handsome Collection comes out on PS4 and Xbox One in March. This bundle includes Borderlands 2, Borderlands: The Pre-Sequel and all of those game's DLC packs.
Your Daily Blend of Entertainment News
Staff Writer at CinemaBlend.