Call Of Duty: Black Ops 2 Microtransactions: Pay $2 To Wrap Your Gun In Bacon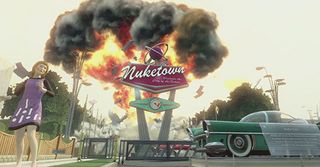 On Wednesday Treyarch will add optional microtransactions to the Xbox 360 version of Call of Duty: Black Ops 2. Players also have some free content to look forward to as well.
According to One of Swords, players will be able to purchase Personalization Packs to make their character stand out from the pack. Each pack comes with three targeting reticles, a Calling Card and a unique weapon skin. One example pack makes your weapon appear as though it's wrapped in bacon. These packs are 160 MS Points, or $2, apiece.
Additional Calling Cards will be on sale as well. The Flags of the World packs let players represent their country of choice in battle. Each pack, featuring a different region, will cost 80 MS Points ($1).
The Extra Slots Pack is another $2 purchase. It provides 10 additional Create-a-Class slots for multiplayer. Furthermore, it allows the buyer to store 20 more emblems, 32 more films, 40 more screenshots in their media library.
Nuketown Zombies, a map for the game's undead co-op mode, will be sold for $5 through Xbox Live. The map was originally a free exclusive to owners of the collector's editions of the game. Treyarch later gave it to all Season Pass owners for free.
All of these microtransactions are accompanied by a freebie: Nuketown 2025. Nuketown 2025, a map previously exclusive to pre-order customers, will be available to all players for no charge.
Treyarch plans to roll out all of this paid and free content to the PS3 and PC as well. However, no release dates were provided for those platforms yet.
Staff Writer at CinemaBlend.
Your Daily Blend of Entertainment News
Thank you for signing up to CinemaBlend. You will receive a verification email shortly.
There was a problem. Please refresh the page and try again.