Call Of Duty: Black Ops 2 Nuketown Zombies Map Released For Xbox 360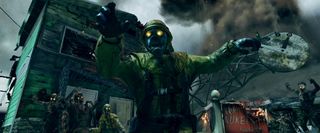 Today the Nuketown Zombies map for Call of Duty: Black Ops 2 became a little less exclusive. Xbox 360 gamers who own the Season Pass can now download the map for no additional charge.
The Nuketown Zombies map is a new co-op map for the game's zombie mode. It's based off the suburban Nuketown multiplayer map for the first Black Ops. Since launch, it's been exclusively available for players who bought a Collector's Edition of the game.
Black Ops 2's Season Pass provides access to all upcoming multiplayer DLC for a one time fee of $49.99. Treyarch plans to release four map packs for the shooter in total. If you purchased them individually, you'd have to pay $15 apiece. Plus, you wouldn't get Nuketown Zombies.
Nuketown Zombies will come to other platforms soon as well. Downloadable content for recent COD games has generally hit the Xbox 360 at least a month before other platforms. The staggered launch of DLC is due to a long-standing partnership between Activision and Microsoft.
Zombie mode is essentially the third pillar of Black Ops 2, alongside the campaign and competitive multiplayer. BO2 shipped with several zombie maps, including the campaign-like "Tranzit." The updated version of Call of Duty Elite now tracks stats for this mode. To find out what we thought of the expanded zombie co-op offering, read our Black Ops 2 review.
To celebrate the Xbox 360 launch of Nuketown Zombies, Activision released a new trailer for the map. You can watch it below.
Staff Writer at CinemaBlend.
Your Daily Blend of Entertainment News
Thank you for signing up to CinemaBlend. You will receive a verification email shortly.
There was a problem. Please refresh the page and try again.