Call Of Duty: Black Ops 3 Is Bringing Back This Classic Map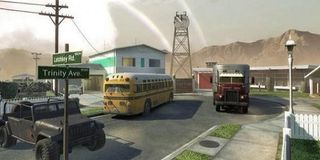 Call of Duty: Black Ops III is getting ready for a night out on the town. Nuketown, that is, as Activision announces the impending return of one of the series' most popular maps.
It's not uncommon for first-person shooters like Call of Duty and Battlefield to adapt fan-favorite maps to the series' latest iteration. Even Killzone has gotten in on that action, cleverly reimagining older maps in a way that shows how they look years into the destructive struggle between Vectans and the Helghast.
The thing is, these old school environments are usually brought in several months following a game's launch, usually as part of a themed map pack. That's not the case for upcoming Call of Duty: Black Ops III, as Activision has announced the return of Nuketown from the word go.
As is typical of these reintroductions, however, Nuketown will be receiving an update for its latest outing with the Call of Duty franchise. According to the announcement, though, it should still prove a fantastic setting for plenty of frantic firefights.
All you need to do to claim your copy of the popular map is to pre-order BlOps III for the PlayStation 4, Xbox One and PC. A code for the popular map will be included in the game, making me wonder if a pre-order is actually necessary. I imagine all early runs of the game will include the code, but you might want to pre-order, just in case.
I certainly hope that's the plan, anyway, as it would be a silly move to divide your player base from the very first day based on who can and cannot access a single map.
As for when you'll finally be able to pick up your own copy of the game, Black Ops III is set to hit store and virtual shelves come Friday, Nov. 6. According to Treyarch Studio Head Mark Lamia, the Nuketown map will be worth the wait.
So, now that we know that Nuketown is coming to Black Ops III, what other legendary maps from previous Call of Duty games would you like to see make a triumphant return?
Staff Writer for CinemaBlend.
Your Daily Blend of Entertainment News
Thank you for signing up to CinemaBlend. You will receive a verification email shortly.
There was a problem. Please refresh the page and try again.