Call Of Duty: Black Ops 3 Gets 1TB PS4 Bundle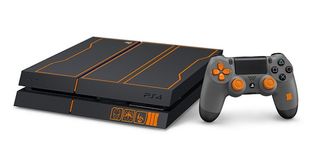 Sony and Activision have partnered up for the latest PlayStation 4 bundle, this time pairing a sweet-looking gray and yellow console with a copy of upcoming first-person shooter, Call of Duty: Black Ops III. Oh, and the best part? This will be the first PS4 to launch in the States with a 1TB hard drive built in.
If you haven't picked up a PlayStation 4 just yet and none of the current bundles have pushed you off the fence, now might be a fantastic time to start saving those pennies, as the 1TB Black Ops III Limited Edition PlayStation 4 bundle is set to arrive alongside the game on Nov. 6. Even if you aren't the biggest fan of the Call of Duty series, this might be a collection worth considering since the console and controller look pretty rad and it comes with twice the hard drive space of the standard consoles.
I had a 1TB hard drive ready to swap out with the onboard drive the day the PlayStation launch so, thankfully, I haven't yet experienced the storage dilemma many gamers are now experiencing after downloading a dozen games that take up around 40GB of space each. I'm at about the halfway point, though, so I can assure you that all of that extra room is appreciated.
Announced today through the PlayStation Blog, not only does the Black Ops III PS4 bundle come with an expanded hard drive, but it also boasts a controller with a matching paint job and a copy of what will likely be one of the top shooters throughout the next 12 months. You'll get a Standard Edition of BlOps III in this bundle, but it comes with that free NUK3TOWN multiplayer map everyone's been so excited about.
As for the console, just look at that thing. I'm not a Call of Duty diehard by any stretch of the imagination, but I certainly wouldn't turn down that snazzy piece of hardware. The standard PS4 body has been given some nice accents of orange including a trio of logos that represent the game's campaign, multiplayer and zombie modes, while the controller itself has received a more dramatic makeover bosting a gray body and nice yellow accents. In short, it looks nice.
The whole shebang can be yours for $449.99 in the US or $549.99 in Canada, where everyone is more polite despite the fact that stuff is way more expensive, apparently.
As a reminder, Activision announced that PlayStation 4 was the "new home of Call of Duty" during E3 2015, meaning that all Black Ops 3 DLC will arrive on that front a full month before the Xbox One.
According to Activision GM Rob Kostich, the game is shaping up nicely.
"From day one, it has been designed to push the franchise to new heights on next generation hardware," he said in the announcement. "We cannot wait for you to experience Black Ops III for yourselves on November 6th, and we hope you like the Black Ops III Limited Edition PS4 as much as we do!"
Staff Writer for CinemaBlend.
Your Daily Blend of Entertainment News
Thank you for signing up to CinemaBlend. You will receive a verification email shortly.
There was a problem. Please refresh the page and try again.