This Gold PS4 Is A Taco Bell Exclusive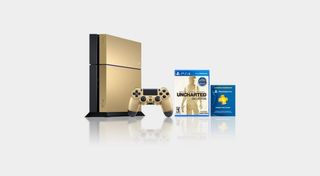 Sony has teamed back up with Taco Bell to offer gamers a chance to get their hands on a limited edition gold PS4 with an accompanying golden DualShock 4 controller and a free copy of Uncharted: The Nathan Drake Collection along with an entire year's worth of PlayStation Plus. Up to 6,000 limited edition PS4's will be handed out... for free.
The news comes courtesy of a post over on the official PlayStation Blog. As part of the celebration of the PlayStation's 20th anniversary Guy Longworth, senior vice president of the PlayStation brand marketing for Sony Computer Entertainment America, made it known that gamers would be able to get their hands on the limited edition golden PS4 with the controller, game and PS Plus subscription by purchasing a Big Box at a local Taco Bell.
Sony will be giving away free PS4 units every ten minutes starting on September 24th and going all the way to November 4th. They've estimated that this will mean up to 6,000 PlayStation 4 units will be given away during this time and you could be one of the lucky gamers to get your hands on the unit.
Anyone who picks up the Big Box will be eligible to enter to win a free PS4 by getting a hold of a unique code and entering it to see if you qualify for the free bundle giveaway.
The offer is only available in the United States and you must be 18 years of age or older. Technically it's possible to enter without purchasing a Big Box at Taco Bell. In fact you can mail-in a request to Taco Bell for a unique code. Another alternative is to request an online code from the WinPS4Bundle.com.
When the offer opens up on September 24th it's possible to text message the unique code for a chance to win. The more unique codes you acquire and text message the higher your chance for winning a free PS4.
If you don't have a device that can text or you're just trying to save a few cents, you can submit the unique code through the online web portal.
There are quite a few rules and regulations about entering to win the free PS4 bundle but gamers not keen on buying food from Taco Bell should at least take some comfort in knowing that there are alternatives. You can check out the full ruleset and the campaign details over on the official PlayStation website.
Many of the comments on the original PlayStation Blog post are actually very positive about the PlayStation 4 with its limited edition gold livery. The attachment to Taco Bell isn't all that exciting to some gamers but having an opportunity to win a free PS4 seems to trump the dislike for the fast food chain.
If you aren't all that interested in the golden PS4, the matching DualShock 4 and a year's worth of PlayStation Plus but you are interested in Uncharted: The Nathan Drake Collection, you can look for the game to launch exclusively for the PlayStation 4 on October 7th next month.
Staff Writer at CinemaBlend.
Your Daily Blend of Entertainment News
Thank you for signing up to CinemaBlend. You will receive a verification email shortly.
There was a problem. Please refresh the page and try again.