Call Of Duty: Ghosts Invasion DLC Trailer, Screenshots Reveal New Maps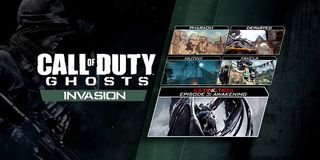 Today Activision revealed Invasion, the third DLC pack Call of Duty: Ghosts. Invasion will bring new multiplayer content to the game next week on Xbox One and Xbox 360.
The DLC pack includes four new maps for online play. "Mutiny" takes place in a pirate hideout somewhere in the Caribbean. The map's Field Order allows players to summon two friendly pirate ghosts to attack enemies.
In "Pharaoh," players will make a mess of an ancient Egyptian palace. Parts of the palace will collapse throughout the map as they take damage. Flesh-hungry scarabs will swarm players dumb enough to break open the urns they live inside. This map's Field Order involves Anubis, the Egyptian god of the afterlife. Apparently he'll "reward" players.
"Departed" is set in a small Mexican town during the Day of the Dead celebration. Players that complete the Field Order can become the Death Mariachi. The Death Mariachi wields two pistols, turning each slain enemy into an ally.
The fourth and last map is a remake of "Favela" from Call of Duty: Modern Warfare 2. The Brazilian slum has a new layout and a new hazard: collapsing buildings. The Field Order enables players to call in a Y-8 Gunship to rain down death on the opposition.
Invasion will continue the Extinction mode campaign from previous DLC packs as well. In "Episode 3: Awakening," a team of players must infiltrate the underground fortress of the Ancestors, the "mysterious puppet-masters" responsible for the alien invasion. They'll have to bypass several defensive measures (and kill a whole lot of enemies) to access the Ancestors' secrets at the heart of the fortress.
Activision will release Invasion through Xbox Live on June 3rd. The DLC pack is debuting on Xbox One and Xbox 360 first because of the long-running exclusivity agreement between Activision and Microsoft. PS4, PS3 and PC owners should get the content in about a month.
The map pack costs $14.99 to download. It's also available as part of the Call of Duty: Ghosts DLC Season Pass, priced at $49.99. The Pass provides access to all four map packs (Onslaught, Devastation, Invasion and Nemesis) as they become available.
Image 1 of 4
Your Daily Blend of Entertainment News
Staff Writer at CinemaBlend.