Call Of Duty: Modern Warfare 3 Clan Operations Now Live On PS3 And Xbox 360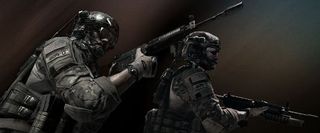 Activision is giving Modern Warfare 3 players a new way to compete. The military shooter's Clan Operations are now out of testing and available to the public through Call of Duty Elite.
Clan Operations challenges premium Elite members to become the best in certain categories, such as "Most Team Deathmatch Kills." The big difference between these Clan Ops and the Lone Wolf Operations is that your whole clan - or at least the premium members in it - is being measured.
"To keep clan operations fair, your clan's score will be a total (or average) of the top six highest scoring members of your clan. This way clans small and large will be on an even playing field as far as scoring is concerned," says Activison.
Once an Operation has concluded, your clan might be placed in one of four tiers:
Bronze - Top 50% of competitors
Silver - Top 25%
Gold - Top 10%
Champion - First place on Leaderboard
Winners will earn XP and badges for their guild. The top six players in a first-place guild will also receive real world prizes.
Clans Ops are available for both the PS3 and Xbox 360. The PC version doesn't support Call of Duty Elite yet and is therefore missing out on this feature.
Staff Writer at CinemaBlend.
Your Daily Blend of Entertainment News
Thank you for signing up to CinemaBlend. You will receive a verification email shortly.
There was a problem. Please refresh the page and try again.