Call Of Duty XP Tickets Go On Sale July 19th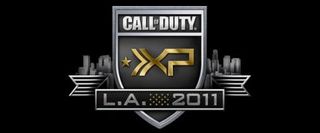 Soon Call of Duty fans will be able to book their spot at Call of Duty XP. Activision will begin selling tickets to the "ultimate Call of Duty event for fans of all levels" next week.
Call of Duty XP is a two-day convention taking place in Los Angeles on September 2nd and 3rd. The six thousand attendees will get the first look at Call of Duty: Modern Warfare 3's multiplayer. They'll also get hands-on time with the multiplayer and Spec Ops modes. Call of Duty Elite, the online service launching alongside MW3, will be on display as well.
XP will host a number of competitions during the weekend. Activision and Microsoft are co-sponsoring a $1 million dollar COD tournament. Competition won't be limited to gaming, though. The organizers also plan to recreate a Call of Duty multiplayer map for paintball.
Tickets will go on sale on July 19th at 10am PST through the XP website. They will cost $150 apiece and are valid for both days. Each person may purchase two tickets. Attendees must be at least 18 years old.
Yes, those are some damn expensive tickets. However, the money's going to a good cause. All of the proceeds from the event will benefit the Call of Duty Endowment, a non-profit organization. C.O.D.E. seeks to help returning veterans find employment.
Staff Writer at CinemaBlend.
Your Daily Blend of Entertainment News
Thank you for signing up to CinemaBlend. You will receive a verification email shortly.
There was a problem. Please refresh the page and try again.