Camelot Unchained Alpha Delayed To 2015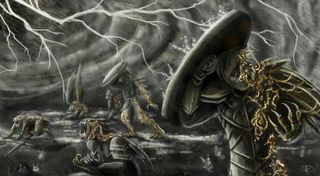 City State Entertainment has some rather unfortunate news for those of you who have been desperately waiting for news on the realm-vs-realm MMORPG, Camelot Unchained: The Alpha is delayed due to a few unforeseen circumstances. Mostly it has to do with not being able to hire in engineers in a timely manner.
Over on the Camelot Unchained website, there's a detailed blog post explaining exactly what sort of trouble the team ran into and why the game has been delayed so far, with the developers writing...
Now for those of you who don't know, the engineers (usually the programmers working on the engine code or graphics rendering) are the foundation for the game. If you don't have proper engineers you don't have a game.
This was an issue that DayZ's standalone suffered when the team had to rely on the network engineers to get the game up and running to par on the server-side. In the meantime, artists and asset creators were kind of left to just make stuff while the core problem was addressed for the game.
In a way, if you had to think about design/graphics/engine programmers, they would be like a full tank or a full healer in an MMO. They only serve one distinct purpose, but if you don't have them on the team you can't win the raid at all.
Anyway, the post goes on to say...
In addition to this, City State plans to hand out free subscriptions, founder's points and CSE points for backers who were promised an alpha test that's now being delayed. That's awfully nice of them.
What's more is that the new alpha test date will be February, 2015.
The blog post is extremely detailed and lengthy, rolling out all the different features, parts and mechanics of the game that the team is updating, adding and fixing. If you don't mind reading through a lot of the technical jargon or the alpha checklist, then you're probably going to want to soak up all the detail in the post.
You can learn more about Camelot Unchained, the Kickstarted MMORPG, by heading to the game's official website.
Staff Writer at CinemaBlend.
Your Daily Blend of Entertainment News
Thank you for signing up to CinemaBlend. You will receive a verification email shortly.
There was a problem. Please refresh the page and try again.