Capcom Announces 15 Games For Wii U's eShop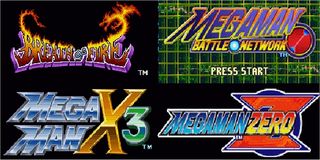 Capcom has a huge catalog of titles scheduled to arrive for the Nintendo Wii U and Nintendo 3DS later this year on Nintendo's digital eShop.
Over on the Capcom Unity board the company revealed that they have 15 classic titles moving over from various retro consoles from Nintendo's past and bringing them up and into the present generation of console gaming.
The games aren't redos or remakes, but they will be playable in all their former glory on the Nintendo 3DS and the Nintendo Wii U.
Some of the very best games that Capcom produced will be arriving on Nintendo's digital eShop, including classics like Mega Man X3, Breath of Fire and the visually engaging platformer, Demon's Crest.
Fans nearly flipped out seeing Breath of Fire on the list, since it's hailed as one of the greatest games from Capcom's previous history of illustrious brands and high-quality outings. This was before the move into disc-locked content and handing off fan-favorite franchises like Devil May Cry to studios like Ninja Theory.
But in addition to the old-school SNES titles, Capcom is making good on the Wii U's ability to play GBA titles by bringing over a nice cache of games starring The Blue Bomber. Yep, a lot of the classics from the Mega Man collection will be available on the Wii U and it won't include that nasty bad box art Mega Man.
The rest of the games planned for release on the Wii U includes some lesser known games such as Street Fighter 2010: The Final Fight. I have to be honest, I don't remember Street Fighter 2010 at all. But it's one of those games that comes from the back-alley of the NES' collection, and that system had a ton of games.
The rest of the titles are going to be made available for the Nintendo 3DS. It's the same games from above, coming off the NES system and making the jump to Nintendo's latest handheld.
Capcom didn't roll out a specific date for when the games will be available, but they're expected to launch later this year. These will be pretty cool titles to own and play in between some of the bigger releases.
Staff Writer at CinemaBlend.
Your Daily Blend of Entertainment News
Thank you for signing up to CinemaBlend. You will receive a verification email shortly.
There was a problem. Please refresh the page and try again.