Cards Against Humanity Can Now Be Played Online For Free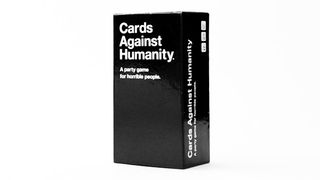 Cards Against Humanity is only four years old, but its popularity rivals far more elderly games. In its short existence, the game has become a cultural phenomenon, revealing the absurd and offensive side of everyone who get their hands on a deck. But now physical cards aren't even necessary, thanks to a designer from Toronto.
Cards Against Originality isn't an official version of the game. It's the brainchild of Dawson Whitfield, who unveiled the web application on Saturday.
Here's his Twitter announcement. Just look at him. He's so excited:
Playing Cards Against Humanity on the web doesn't mean that you can skip the game's social aspect. There's no online multiplayer feature, which means that everyone will still need to be in the same physical space to play. Sorry, loners.
Here's how Whitfield describes his app:
The reason Whitfield can get away with such blatant thievery has to do with the original creators' generosity. Cards Against Humanity is distributed under a Creative Commons license, which means that anyone can "copy and redistribute the material in any medium or format." The company actually allows players to download all of its cards and print them off (though, $25 will score you an official deck).
This isn't the first time that a Cards Against Humanity look-alike has found its way onto the digital market. Several websites and applications have materialized on the internet, but Whitfield's is notable for its faithfulness to the original.
In a conversation with WIRED, Cards Against Humanity co-creator Max Temkin poopooed the app, touting the physical cards as superior:
However, if you'd like to check out Cards Against Originality, just point your browser to cardsagainstoriginality.com and enjoy your depravity.
Your Daily Blend of Entertainment News
Thank you for signing up to CinemaBlend. You will receive a verification email shortly.
There was a problem. Please refresh the page and try again.