Weird Loners Photos Tease Quirky Neighbors In New Fox Comedy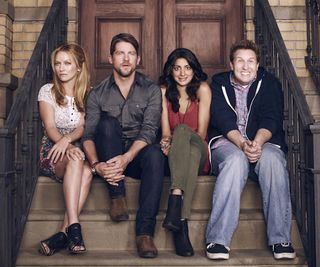 Among the series previewed at Fox's 2014-2015 Upfront today was new comedy Weird Loners. Fox hasn't revealed any video from the half-hour comedy yet, but we do have some pictures to tease these quirky neighbor friends, the above group photo included. And there's also this episode shot, which seems to celebrate the arts... kind of:
This next still shows off the adorable Becki Newton alongside Zachary Knighton...
Weird Loners seems to be the latest effort to get Becki Newton a comedic starring vehicle. The Ugly Betty actor starred in Love Bites and The Goodwin Games, neither of which stuck around. Hopefully Weird Loners has better luck. The comedy comes from Michael J. Weightorn and also stars Nate Torrence, Meera Khumbhani and Happy Endings' Zachary Knighton.
Here's part of Fox's synopsis for Weird Loners
It's hard to comment on Weird Loners without seeing the trailer, but the premise and the cast certainly offer potential. Admittedly, I don't think it ever really bodes well when a comedy series is held off until midseason. To use Newton's shows as an example, both The Goodwin Games (Fox) and Love Bites (NBC) were held off for the second-half of the TV season in the years they debuted. Love Bites actually didn't air until June. Were they saved for later because Fox and NBC assumed they'd struggle for an audience regardless of where they aired? Or did they fail to find their audiences because they were saved for so late in the season? Hard to say. Maybe a little of both. Either way, looking at Surviving Jack -- a promising and funny Fox comedy that I think would've had a much better shot at survival if it had debuted in the fall -- it's hard to feel very confident for any comedy that debuts during Midseason these days.
View Fox's full 2014-2015 lineup here. And check out more photos from the series in the gallery below!
Image 1 of 9
Your Daily Blend of Entertainment News