Check Out This Terrifying Sonic Game Recreated In Project Spark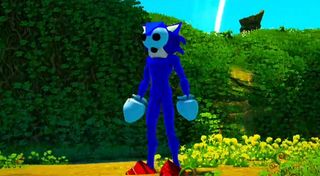 If you thought that the current crop of Sonic games were a real chore to play through, you haven't played Sonic on Project Spark. The community toolset was used to recreate the iconic blue hedgehog in a 3D platformer that will either have you clapping or tearing out your hair.
Hardcore Gamer spotted a new video that's been circulating around over on the Xbox game clips page for user Nightmare22m.
The video features a playthrough of a level for a 3D Sonic game called Sonic Unleashed v0.5. Obviously the 0.5 indicates that it's a work-in-progress and the author has a lot of fixing, tweaking, editing and bug-testing to do.
If you have five minutes to spare and a penchant for masochistic platforming, you'll most certainly love what happens in this worthwhile video.
So yeah... what did you think of the bug-eyed Sonic? How about his lanky track-and-field body? A bit of a departure from his previous incarnations, eh?
I think one of the more interesting things about it is that if Sonic didn't look so... deformed... the rest of the level actually could pass for something out of a Sonic game. It's a nice testament to the creative possibilities housed within Project Spark. There were even previous attempts to recreate Mario and even Dragon Ball Z.
This Sonic Unleashed was very ambitious even though most would see it for the most obvious of flaws, including falling through the floor or not being able to get out of the war in that one particular segment.
I'm not really sure where the whole Super Sonic thing came from near the end, but it at least shows that the creators have some interesting mechanical ideas to explore, if they choose to move forward with the project.
I think right now Project Spark still kind of lacks the cohesive bonding with the projects and games to make it seem worthwhile to casual audiences. It's not quite as "broadly appealing" as LittleBigPlanet, but it does offer up some opportunities and tools to expand beyond what's possible in Sony's exclusive platforming series.
Nevertheless, we've seen some fairly unique titles crop up out of the deep recesses of the creative minds utilizing Project Spark, giving the general public some interesting little games that range from Tetris and Marble Madness, to Fable-esque RPGs and racing games.
While this Sonic Unleashed still has a long ways to go before it draws gamers away from Sega's own Sonic titles (which aren't very far off from this user-made gem when it comes to glitches and shoddy camera work), it sets a nice groundswell for potential projects to follow in its footsteps or advance on the formulas introduced in the video above. I guess we'll just have to see what else the Project Spark community comes up with next.
Staff Writer at CinemaBlend.
Your Daily Blend of Entertainment News
Thank you for signing up to CinemaBlend. You will receive a verification email shortly.
There was a problem. Please refresh the page and try again.