Chrono Trigger Is Now 20 Years Old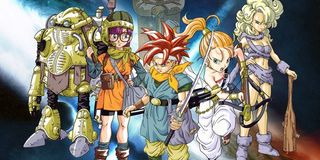 It may be hard to believe, but the classic SNES game, Chrono Trigger, turns 20 today. That should help some of our readers head into the weekend feeling older than ever.
It's always a rough experience hearing that a game you quite vividly remember playing as if it were only a few years ago is actually just a year away from being old enough to legally drink. That's assuming that video games can drink alcohol, or at all, of course. Look, it's not a perfect analogy, but you get the idea.
Anyway, waaaay back on March 13, 1995, an unexpected gem of a game hit Nintendo's second console and, with it, pretty much changed the face of RPGs forever. Many still count Chrono Trigger as one of the best RPGs of all time, if not one of the best games, period. From emergent gameplay to non-linear narratives and stories that weren't afraid to be a bit complex, Chrono Trigger's DNA can be found flowing throughout the industry.
While Chrono Cros managed to win over its fair share of praise years later on the PlayStation, many fans still hold out hope to this day that a more direct follow-up to Chrono Trigger will one day make an appearance.
While Chrono Trigger has popped up in a handful of locations following its original launch, including the PlayStation Network, you youngsters of the modern age will be happy to know that you can still experience this classic on mobile devices through both the App Store (opens in new tab) and Google Play. Some have reported a few issues here and there and the experience isn't quite the same without an SNES controller in your hand but, when it comes to a game like Chrono Triger, I say experience it any way you can get it. Thanks to its amazing soundtrack and clean graphics, it's one of those rare games that truly stands the test of time and can be enjoyed today as much as it was 20 years ago.
As stated above, one of the many reasons Chrono Trigger is so well loved is because of its amazing soundtrack. Squre Enix has actually added several of the game's more recognizable tunes to the 3DS rhythm game Theatrhythm Final Fantasy: Curtain Call, in case you can't get enough of those old-school beats.
In honor of Chrono Trigger's 20th birthday, feel free to share your fond memories in the comments section below. Did you play the game when it first released back in 1995? Did you discover it recently? If so, how did it hold up? In what modern games do you notice Chrono Trigger's influence?
Your Daily Blend of Entertainment News
Staff Writer for CinemaBlend.