Classic Nintendo Games Reimagined As Trashy Book Covers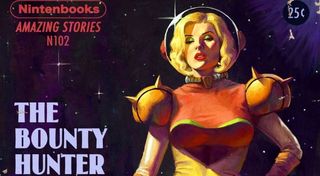 What if Nintendo games were pulp novels? What if they were trashy serials from the 1960s or a collection of noir thrillers with odd premises, wacky characters and deadpan plots? The whole thing may sound too crazy to imagine, but someone put that very concept into play by envisioning Nintendo titles as pulp novels.
I know the Big 'N' is perpetually terrified about how their iconic brands are displayed outside of their own games, but I think that the creative lengths to which artist Ástor Alexander traveled to convey his artwork of three key Nintendo franchises is definitely worthy of some applause.
Shortlist spotted the artwork from Alexanders' website. They did a brief write-up on the images and Alexander's penchant for giving a completely different view of popular video game properties before plastering the fake covers for everyone to see.
You can check out the first image below of The Legend of Zelda re-imagined as a lady-in-black detective noir. The rest of the book covers are on the following pages. To be honest, I never would have guessed that was supposed to be Link and Zelda had I not read it from the article first. In my humble opinion, the only real dead giveaway is the Triforce up in the corner. Link's hard-nose detective look is just really hard for me to get over, and Zelda's femme fatale look makes it difficult to see any of the original in there. Then again, maybe it's just me missing the forest for the trees.
The next one is Super Metroid, with Alexander giving Samus Aran a sexy 60s makeover. Rager Vadim would be proud. The Marilyn Monroe look with the swimsuit-style spacesuit and B-movie raygun just makes it all so over-the-top. I'm guessing that's a dead Ripley laying at her feet? This whole thing almost reeks of being a Roger Corman movie that was never made. But heck, I'm totally curious what Nintendo would think of Samus getting in touch with her inner retro-Hollywood?
Last but certainly most interesting is a completely new take on the Super Mario Bros. Instead of being a cutesy, colorful world with bright visuals and campy characters, we have a kidnap caper with what appears to be hints of a Stockholm Syndrome twist. This is all kinds of kinky; Princess Peach is shirtless with what appears to be a crimson velvet blanket, and Mario looks like a hitman who would go by the codename: The Plumber. As ridiculous as this looks I think it would make for both an interesting book and movie. What do you think?
Staff Writer at CinemaBlend.
Your Daily Blend of Entertainment News
Thank you for signing up to CinemaBlend. You will receive a verification email shortly.
There was a problem. Please refresh the page and try again.