This Custom Star Wars PlayStation 4 Is The Droid You're Looking For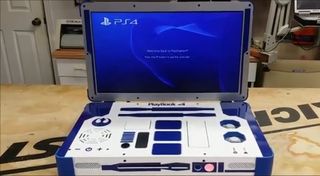 Eddie Zarick has made waves in the industry before with his amazing modded consoles. His latest invention is a custom PlayStation 4 designed with an R2-D2 livery. It looks really cool and it's portable, so technically it can be taken anywhere and played where an outlet is available.
Cheat Code Central did a write up about Zarick's latest invention: a fully converted PS4 unit into a portable R2-D2 themed carrying case. You can see it briefly in action with the video below from Zarck's YouTube channel.
While the video is only a minute long, it rolls out some really awesome details about the mod. Basically, it's designed using a lot of R2-D2 inspired 3D printed art. It isn't just vinyl like some of the previous mods that Zarick has done. According to him, this is his favorite console-to-laptop conversion mod and it's easy to see why.
There are buttons on the side that also enable users to hear R2-D2 "talk." A couple of different beeps and boops are available, with the machine cycling through different sounds. Speaking of which, when you plug the device in and boot it up you'll hear the iconic sounds from the popular, rolling robot from Star Wars.
Zarick has made quite a few other console conversions, including his first foray into becoming an internet celebrity of modded consoles with the Xbook One. That device came out back in the middle of 2014, where people were blown away at his skill for turning a home console into a portable laptop. I can only imagine how heavy that thing is to carry around.
Later on Zarick made headlines once again when he was able to create a faux-backwards compatible rendition of the Xbook One. That's right, it was a single device that could play Xbox 360 and Xbox One games. However, the device's operation was kind of wonky because you couldn't have both on at the same time. You had to power one up and power the other down. If that sounds kind of janky to you that's because it was. Nevertheless, the ability and sheer skill required to have a dual-booting Xbox One and Xbox 360 device under the abode of a boxed laptop design was unprecedented.
Zarick appears to be ratcheting up more fame once again now that the R2-D2 console has arrived... and just in time, too. The new Star Wars movie is due out this December and it'll be accompanied by the release of Star Wars: Battlefront from Electronic Arts and DICE. Fans who really, really want to dive into their inner nerd culture would probably love to get their hands on this Playbook conversion of the PS4 in a portable laptop design.
If you like what Eddie Zarick has designed here you can check out more of his work and some of his creative endeavors over on his official website.
Your Daily Blend of Entertainment News
Staff Writer at CinemaBlend.